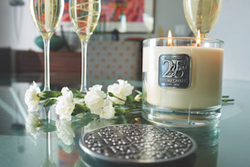 "We are focused on brand building and see the European market as an opportunity to surprise and delight our customers and end consumers with new product introductions that are rooted in bringing beautiful experiences to life." Jeanne Hulit, president of Village Candle
Wells, Maine (PRWEB) January 16, 2018
From its birth in Maine, Village Candle has spent the last 25 years creating quality home fragrance experiences through meticulous care and craftsmanship. The brand continues that legacy with an exciting new fragrance line-up at Spring Fair.
The new Shimmering Metallic candle collection combines the beauty of opulent color, décor and complex fragrances – inspired by mood, season and a new, modern artisan label and look. The collection includes a range of 14 luxurious colors and new fragrances to be merchandised with a full hutch or a seasonal highlight table program. "Be Bold and Be Beautiful" was the inspiration, as this new collection blends the company's commitment to mixing and mastering exciting new fragrance forms for the home and experiences for the end consumer. Trend colors include a purple that ties in with Ultra Violet, Pantone Color of the Year, in a Berry Cardamom fragrance and Rose Gold, offering a juicy and sweet Guava Tangerine fragrance experience.
Consumers can bring home the full fragrance experience with Village Candle's new home care collection, Happi Home™. Happi is thoughtfully blended with plant-based ingredients and nature-inspired notes. The collection includes multi-surface cleaner, dish soap, hand soap, hand lotion, room spray and candle – in six fragrances perfect for kitchen and bath. The Happi line is inspired by the company's belief that the fragrances in your life say a lot about your personal style.
A luxury, limited edition candle, True Brilliance, will highlight of the company's 25th anniversary celebration, along with beautiful giveaways. Elegant, luxurious and modern, this special edition candle, presented in custom-made glass embellished with a silvertone top, expresses the company's dedication to creating deeper, richer and more layered fragrance experiences to share in the years ahead.
"We are looking forward to attending the Fair to share our brand experience and bring our DNA to life," said Dana Schwartz, Vice President of Brand and eCommerce for Village Candle. "We also seek inspiration from the exhibitors and European market as a whole – as we innovate to offer unique and compelling products, more curated and thoughtful in design and premium fragrance experience than ever before. Consumers are changing, especially in the way they shop— as a brand we need to be open-minded and meet our distributors, retailers and, ultimately, end-consumers with exciting brand experiences across all shopping channels," Schwartz added.
Jeanne Hulit, president of Village Candle added, "The Spring Fair is our best forum for showcasing an exciting new Spring line that is more unique in both color and fragrance for the brand. We are focused on brand building and see the European market as an opportunity to surprise and delight our customers and end consumers with new product introductions that are rooted in bringing beautiful experiences to life."
In addition to its own brand experience booth, Village Candle will be a featured brand at the exhibit for Xystos, Flame and Fragrance, Ltd., the UK's premier home fragrance and décor supplier to the gift industry and a leading distributor for the Village Candle brand in the UK.
Please visit Xystos to experience the new collection at Hall 4, 4H50-J51 and ask about value-add promotions for first to place orders and new customers.
"The commitment to quality and brand innovation through not only new and unique fragrances but home care products to further extend the consumer's experience makes Village Candle a natural fit for our company," said Xystos Director Tom Sykes. "We are thrilled to have Village Candle a part of our premier portfolio of products to feature at the show."
Spring Fair takes place at the National Exhibition Centre Birmingham February 4-8, 2018. Visit Village Candle Brand Experience Booth at Hall 5, Stand 5C42 to receive complimentary samples of the company's top three new fragrances, to meet the Brand team and Founder from USA Headquarters and ask about value-add promotions for first to place orders and new customers. The Art and Heart of Fragrance begins now at villagecandle.com
ABOUT VILLAGE CANDLE
Founded in 1993, Village Candle® is a manufacturer and multichannel retailer of quality fragranced candles, gifts and accessories, based in Wells, Maine. Village Candle® creates fragranced products using the most refined wax, the richest colors, and the finest fragranced oils available. Village Candle creates and brings high quality home fragrance products to market with the intent to inspire through beauty, fragrance and experience. Village Candle products are sold in gift stores, grocery stores and online throughout the U.S., with a growing international presence in over 32 countries.
For more information visit http://www.villagecandle.com.