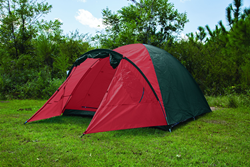 We've been in the game for almost 30 years now. In that time we've grown a lot and learned a lot, building strong relationships along the way and always seeking new ways to save our customers money without sacrificing quality. Intense is just a continuation of that."
MOULTRIE, Ga. (PRWEB) January 17, 2018
On the Edge Brands Inc. (OTEB), a south Georgia catalog and ecommerce retailer/wholesaler with a diverse lineup of brands and product offerings, takes aim at the ever-expanding high-end camping and survival market with the launch of a new product label: Intense Wilderness Survival Gear. The recently unveiled brand aims to set itself apart from a crowded field of competitors by offering extreme adventurers something OTEB president Clint Kadel says is sorely lacking in the current marketplace – innovative, professional grade outdoor gear priced within reach of the even the most budget-conscious consumers.
"The most 'intense' outdoor recreation requires better quality gear, and for consumers who can only afford lower-end products, that's a problem," Kadel said. "We want the exciting world of Alpine hiking, wilderness camping and other challenging outdoor activities to be open to all consumers. After all, America's wild spaces belong to everyone, and overpriced gear shouldn't stop anyone with the skill and desire from climbing Denali. By making top quality camping and survival gear affordable, we hope to help make that possible."
Intense already offers premium sleeping bags, tents and back country emergency supplies and plans to expand its product line substantially in 2018.
OTEB is certainly no stranger to the outdoor marketplace, having spawned such acclaimed outdoor rec/survival brands as Trailblazer. By taking advantage of the knowledge and close manufacturer relationships gained through the development of these now-well-established labels, OTEB believes it can keep Intense's costs low and pass those savings on to its loyal, ever-growing customer base.
"We've been in the game for almost 30 years now," Kadel said. "In that time we've grown a lot and learned a lot, building strong relationships along the way and always seeking new ways to save our customers money without sacrificing quality. Intense is just a continuation of that."
OTEB has without question "grown a lot," and Kadel's modest tone belies the true extent. Kadel founded BudK – OTEB's inaugural retail division – in 1989, originally selling knives out of his grandmother's Moultrie, Ga., garage. Since those humble origins, the company has seen explosive growth, particularly in the last decade.
OTEB now includes four retail divisions, two wholesale divisions and scores of in-house brands. The divisions' combined revenues place OTEB among the largest, fastest growing cutlery dealers in the world, and their product offerings have expanded to far more than just knives, swords and cutlery accessories. The company releases multiple catalogs each month and boasts thriving internet sales, as well. Never shying away from innovation, OTEB embraces new sales platforms and boasts strong social media presence.
For more information on Intense and/or On the Edge Brands, visit http://www.ontheedgebrands.com.