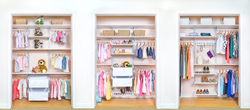 "Home trends may come and go, but adjustable storage is here to stay."
CINCINNATI (PRWEB) January 16, 2018
It's a fact; homebuyers are not satisfied with the storage in their homes upon move-in. They spend an average of $4,550 on home improvement projects within the first three months of moving in, according to Realtor.com. By providing the right storage solutions, your homebuyers can move-in with ease and you can profit. The trend experts at Organized Living are ready to help you capture those profits with these top five closet trends.
1. Adjustability. This is a dominate trend year after year. Homebuyers are not settling for anything less than an adjustable closet system. They crave strong, fully-functional closets and storage areas to stand up to their active lifestyles. freedomRail® combines strength and versatility for a truly adjustable system your homebuyers are demanding.
2. Textured finishes. Liven up your closets with a textured finish to satisfy your homebuyers' demand for an authentic wood feel. Textured live finishes are inspired by natural wood grains for an organic aesthetic in the home. freedomRail's live finishes complement any home décor for a truly elegant experience.
3. Open concept. The average person spends 55 minutes a day looking for missing items, according to NAPO. Homebuyers want to cut down on lost time by keeping everything within view and are doing so with open and organized spaces. They are achieving this look with open shelving, wire baskets and clear acrylic bins.
4. Two-tone. Born from tuxedo cabinetry in kitchens, this trend translates beautifully into closets. Organized Living Snowdrift Live and Driftwood Live finishes come together to create a gorgeous two-toned closet. This dreamy duo is perfect for your homebuyers who want to make a statement with their closet.
5. Personalization. Homebuyers love to personalize their closets. Whether it's adding a glamorous chandelier, wallpaper accents, sports memorabilia or closet accessories, they want to give their space a personal touch. With freedomRail, homebuyers can add accessories and components to their closet at any time. They can move the system without any tools for an easy-to-personalize custom closet.
Home trends may come and go, but adjustable storage is here to stay. Organized Living freedomRail is satisfying homebuyers' needs for an adjustable closet system. With unmatched strength and complete adjustability, you can count on freedomRail to withstand active daily use of your homebuyers for years to come. Learn more about how freedomRail can meet all of your needs and exceed your homebuyer's expectations by visiting OrganizedLiving.com/builders.