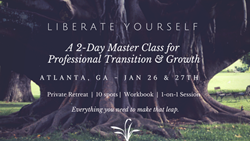 Due to positive response, Ms. Carlson has opened a few additional spots for the Master Class next week.
ATLANTA (PRWEB) January 16, 2018
Although job satisfaction in the U.S. is at a recent high, only approximately 51% of American workers report being satisfied with their jobs. Sarah D. Carlson (http://www.sarahdcarlson.com) is a career coach who liberates lawyers and other professionals from unhappy careers by giving them the power to pivot professionally. Her newest offering is a two-day intensive retreat designed to give professionals everything they need to make a career change in 2018. Response has been very positive, and Ms. Carlson has just opened up a few additional spots for the Master Class to take place in Atlanta next Friday and Saturday.
To register or learn more, visit http://www.sarahdcarlson.com/master-classes.
"The Master Class is designed to take participants through the process of clarifying their professional strengths and their values," Ms. Carlson says, "and to help them select a career goal that aligns with the strengths and values they identify." Participants also leave the course with resumes and cover letters that are tailored specifically for their new career goals, plus strategies for getting interviews and ultimately getting that new, more satisfying job. Those who sign up can also select an optional one-on-one coaching package with Ms. Carlson to help them implement what they learn in the months following the Master Class.
About Sarah D. Carlson LLC
Ms. Carlson, a Harvard Law grad, calls herself an expert in professional pivots. She left a job as an attorney on Wall Street in 2011 to volunteer in Haiti after the Earthquake. She then returned to the U.S. to become a career advisor to law students at Emory Law. After seeing that law students struggled upon graduation in a market with a 50% employment rate, Ms. Carlson created a course to teach them how to effectively advocate for themselves as professionals. "This is a skill that can be taught and graded," she says, "and I've taught it to law students and to professionals with as much as twenty years' experience. Everybody loves it." One student, after taking a course with Ms. Carlson, said:
"I have learned so much from this class that I have a new excitement for my career search. I feel that I am more equipped to reach out to potential employers in search of my dream job. This course gave me direction and confidence to move into a new career field. This class was a dream come true, it was exactly what I needed and didn't even know I was missing."
In addition to the Master Classes, Ms. Carlson also works with individual clients and speaks at law schools, universities, and at other events on the concepts of Professional Narrative as they apply to resumes, cover letters, interviews, business communications, and professional success and happiness. You can get in touch at http://www.sarahdcarlson.com.