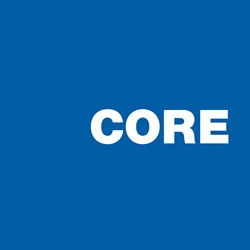 "2501 M Street has the air, light, and views that make it a wonderful place to live thanks to its prime corner location by Rock Creek Park, high ceilings, proximity to Georgetown – and Nobu on the ground floor." Paul Dougherty, Founder, President, and Chief Investment Officer, PRP
WASHINGTON (PRWEB) January 17, 2018
DC-area residents looking to move closer to Georgetown, Rock Creek Park and downtown amenities now have a new condominium to consider at 2501 M Street NW. PRP Real Estate Investment Management (PRP) chose CORE architecture + design (CORE) as Design Architect to transform a 1980s mixed-use property into luxury condominiums and a new ground floor restaurant space for Nobu, the world's most recognized Japanese restaurant.
"With so many aging buildings in DC, and in city centers around the country, 2501 M Street is the model for what sustainable development and office-to-condo conversions can be," said CORE principal I. Guy Martin, AIA. "In general, conversions eliminate excavation costs and can reduce carry costs and risk with their shorter construction and delivery times."
PRP purchased 2501 M Street NW in 2014. The 1980s building began with three upper floors of condominiums and six lower floors of office space. The building would have needed extensive exterior and interior improvements to bring it up to today's standards for office space. After assessing market conditions (DC's hot residential market and abundance of new office space), PRP decided to convert the lower six floors of offices into luxury condominiums.
"The transformation of 2501 M Street is spectacular," said CORE design architect Ron Ngiam, AIA. "It began as an office building with residential condos on the top three floors. And it's become a gleaming 9-floor luxury condominium with Nobu DC on the ground level."
Changing 2501 M Street to a residential building allowed CORE to increase FAR (floor area ratio) by expanding the floor plate of the bottom six floors while keeping the top three floors as-is. CORE also enclosed balconies to provide additional interior space. The new design increased the total floor area from 134,185 SF to 161,050 SF.
Adding to the project's complexity, the condominium residents on the top three floors remained in the building throughout construction. "Imagine maintaining plumbing, air-conditioning, and movement in and out of a building while you're removing most of the exterior shell, adding cantilevered concrete slabs, and drilling holes for new building services," said Ngiam.
Aside from the challenges of keeping the residents in place, CORE addressed many structural, technical, and regulatory challenges to complete the project's residential and retail/restaurant spaces including:

Three top floors of in-place condos that blocked vertical roof access.
Condo building requiring separate HVAC cooling system but a split system was not possible due to the distance to the roof.
No space for vertical shafts, toilet exhaust, kitchen hood exhaust, dishwasher exhaust, and fresh air intake. CORE modernized the elevator system to reduce the number of elevators, freeing up an elevator shaft for new exhaust, fresh air intake, and refrigerant lines from the roof.
A 12,000 SF restaurant that needed to maintain ceiling heights and a large open area.
Ductwork and drainage lines from above would have lowered ceilings so CORE used VRF units (piped hot and cooled water) instead of forced air to heat and cool the space.
With no height for kitchen hoods with ductwork above (for HVAC, sprinklers and lights), CORE vented the kitchen fumes horizontally and then down through the basement to an air scrubber.
With no space for existing horizontal piping from above condo units, CORE oriented condo unit plumbing to drop on column lines where the restaurant's architecture could accommodate drop beams.
"2501 M Street has the air, light, and views that make it a wonderful place to live thanks to its prime corner location by Rock Creek Park, high ceilings, proximity to Georgetown – and Nobu on the ground floor," said PRP's founder, president and chief investment officer Paul Dougherty.
The building now has 59 luxury residential units with access to an all-new lobby level, party room, fitness facilities, and in-building parking. CORE began working on 2501 M Street in September 2014. Nobu leased the 11,475 SF ground floor restaurant space and opened in September 2017. The rest of the building opened to new residents in December 2017.
In addition to CORE, project team members included: Davis Construction (General Contractor), Hapstak Demetriou (Interior Finishes and Lobby), Rathgeber/Goss Associates (Structural Engineer), Metropolitan Engineering (MEP Engineer), Bohler Engineering (Civil Engineer), Oculus (Landscape Architect), Wiss Janey Elstner Associates (Building Envelope Consultant), Sustainable Design Consulting (LEED Designer), Stroik Lighting Design (Lighting Designer), and Polysonics (Acoustic Consultant)
About CORE architecture + design
Under the leadership of Principals Dale Stewart, Guy Martin, Allison Cooke, and David Cheney, CORE thrives on complex projects and leads with experience, understanding that their best work comes from designing hand in hand with their clients. Bringing a spirit of exploration to each project, CORE believes that design has the power to shape experiences. Visit coredc.com and follow COREdc on Twitter, Instagram, Facebook, and LinkedIn.