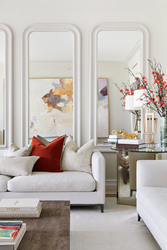 "Pretty spaces are no longer adequate for selling today's luxury real estate," said Cheryl Eisen, Founder and CEO of Interior Marketing Group.
NEW YORK (PRWEB) January 18, 2018
Today, Interior Marketing Group (IMG), the largest luxury design and marketing firm in the New York City area, in partnership with The Jacques Cohen Team of Compass, a real estate technology company, today announced the closing of residence 8B in the iconic 15 Central Park West. Closing at $21,500,000, the sale became the top New York City contract of the week ending November 26, 2017.
Since its completion in 2008, 15 Central Park West has become a hotspot for celebrities and high net worth individuals including Sting, whose penthouse sold for $50M earlier this year. Residence 8B was previously on the market for six weeks, however, broker Jacques Cohen and the property's seller enlisted Cheryl Eisen of IMG to visually rebrand the home for the luxury market.
"The abundance of new development competition in today's ultra-luxury market mandates staging. It has become the standard rather than the exception," said Cohen. "The sales philosophy of The Jacques Cohen Team is based on the Three Ps: Price, Position, Presentation. No one executes the latter better than IMG," Cohen continued.
IMG has reinvented the singular focus of staging by creating a unique hybrid of interior design, public relations, marketing and event planning. Coined, "Interior Marketing," the combination creates a powerful trifecta of visual differentiation, media exposure and industry buzz needed to sell luxury real estate in a volatile market.
"Pretty spaces are no longer adequate for selling today's luxury real estate," said Cheryl Eisen, Founder and CEO of IMG. "Along with Jacques' experienced and tenacious team, we together built a multifaceted, design and marketing approach to beat market trends."
According to Olshan Report data, residence 8B at 15 Central sold in less than half the time of the average luxury listing over $4M; perhaps even faster if compared to listings over the $20M mark.
In addition to the visual rebranding of the property, IMG and The Jacques Cohen Team worked together to secure press for the property, a strategy that has proven importance in recent years. The pair have plans to implement a similar action plan for upcoming listings.
About the Jacques Cohen Team
The Leader and Founder of The Jacques Cohen Team at Compass is a well-respected New York and Miami power broker and luxury residential expert. DOUBLE LICENSED in the states of New York and Florida, Jacques comes powerfully equipped with 10 years of comprehensive real estate experience and a track record of $250,000,000 in residential sales volume that includes the memorable $35,000,000 sale of 15 Central Park West #8A, the $17,000,000 sale of Penthouse #3 at 21 West 20th Street, and the $16,500,000 sale in 3114 North Bay Road in Miami 2017.
About Interior Marketing Group
Interior Marketing Group is the largest, full-service luxury interior design and marketing firm in the United States. Specializing in the most coveted properties in the world, our signature Interior Marketing service helps sell luxury properties 70% faster than the average luxury home. With billions of dollars in luxury real estate sold each year, our work is regularly featured in publications including The New York Times, The Wall Street Journal, Good Housekeeping, Vogue and on real estate design shows on networks including NBC, CBS and Bravo TV.
About Compass
Compass is a real estate technology company with a powerful end-to-end platform that supports the entire buying and selling workflow. Compass deliver an incomparable experience to both agents and their clients all in service of the Compass mission: to help everyone find their place in the world. Founded in 2012 by Ori Allon and Robert Reffkin, Compass operates in 11 regions across the United States: New York City, Los Angeles, Chicago, San Francisco, Boston, Washington, D.C., Miami, Orange County, The Hamptons, Santa Barbara and Montecito, and Aspen. Learn more and find your place at http://www.compass.com and compass.com/careers.