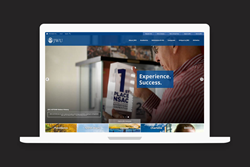 "mStoner was a true partner in the website development process from beginning to end," said Judy Silva, AVP of Marketing. "Their entire team excelled at client service and creative problem-solving."
CHICAGO (PRWEB) January 18, 2018
The Fifth Annual EDU Digital Marketing Awards presented mStoner, Inc. and clients with three awards.
Sponsored by the Higher Education Marketing Report, the EDU Digital Marketing Awards recognize the best educational websites, digital content, electronic communications, mobile media, and social media. A national panel of industry specialists judges each submission on creativity, marketing execution, message impact, technology application, and innovation content. More than 1,000 entries were received and only 147 gold awards were given.
The mStoner team is thrilled to share the following results:
Gold: Johnson & Wales University
A collaborative team at Johnson & Wales agreed on a risky but brilliant solution: launch a smaller site with the proper brand presentation on an extremely aggressive schedule, then rebuild the entire site afterward in a more relaxed time frame.
mStoner stepped up to the plate. The new information architecture (IA) focuses on the journey prospective students make toward deciding to apply. Data showed that after landing on the homepage, most visitors clicked through to one of Johnson & Wales' four campuses, in Providence, Miami, Denver, or Charlotte. The new homepage design features these locations so visitors can now explore them from the homepage without leaving the main site.
Professional photography from the brand campaign creates a strong visual impact for visitors. And employing micro-content, such as one of the campaign's messages — "Experience. Success." — gives visitors a quick brand impression that reflects and reinforces the larger campaign strategy.
Bronze: Mills College
Mills College in Oakland, California, encourages its young, mostly female students to stand out and "make a statement." So when it was time for a website redesign, Associate Vice President of Marketing Judy Silva knew it was imperative to create a web presence that would be as forward-thinking as Mills students and right-fit prospects.
Market research shows the most successful sites make it easy for users to find what they are looking for. The new site's approach to design and content is effortless simplicity. Visitors are greeted with a friendly and familiar user experience in which the interface recedes and the content shines. The information architecture is intentional and pared down to get visitors where they want to go quickly. Show-don't-tell content features large-scale images of diverse students as well as profiles that emphasize student voices. Subtle, elegant user interface motion and animation keeps visitors engaged in a sophisticated, cutting-edge user experience that also reflects the Mills brand attributes.
"mStoner was a true partner in the website development process from beginning to end," Silva said, "and we're working with them now for our next phase of development. Their entire team excelled at client service and creative problem-solving. What was really out of the ordinary was that we worked with the company's leadership throughout the entire process, and they were genuinely invested in our organization's challenges and long-term success."
Merit: St. John Fisher College
mStoner helped the St. John Fisher College marketing team translate the magic of their campus culture to every screen size.
To illustrate the feeling of Fisher's campus, mStoner's creative team focused on authentic storytelling and points of pride by creating "Experience Fisher," a site section that provides a rich, dynamic invitation to explore the college.
Research shows that the first things prospective students search for are academic programs. To optimize the mobile experience for a high school student, mStoner made "Majors & Minors" the first tab in the navigation and also created a unique filtering feature so visitors can narrow down and browse Fisher's many programs.
Also, mStoner provided the Fisher team with recommendations for how to manage updates to the site content, make the most of their new CMS, and keep the site clean and consistent-looking. The result: The new site is already creating better word-of-mouth publicity and strong numbers of natural brand ambassadors.