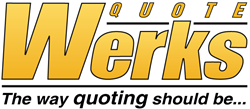 This partnership ensures members of The 20 are working with a company that shares the same values of growth, standardization, and efficiency
Orlando, FL (PRWEB) January 16, 2018
Aspire Technologies, Inc., a leading provider of sales quoting and proposal software solutions for the global small and mid-markets, today announced a new partnership with the leading MSP Business Development Group, The 20.
QuoteWerks has been an industry leader in the sales quoting and proposal generation vertical for over 20 years. With a variety of tightly-formed PSA and IT Distributor integrations and an ever-growing user base, QuoteWerks is the choice for MSPs and other companies looking to simplify their quoting and proposal generation process.
The new partnership provides members of The 20 with the opportunity to utilize a market leading solution that includes features specifically designed for their industry.
"The 20 is excited about this partnership with QuoteWerks because of its real time pricing with major hardware distributors, the ability to customize and stylize quotes to reflect each member's business, and the simplicity of customer approvals with just one click directly from the quote, as well as its integration to Kaseya which is essential for our group", says Jonathan Blakely, CIO of The 20.
John C. Lewe IV, President of QuoteWerks added, "This partnership ensures members of The 20 are working with a company that shares the same values of growth, standardization, and efficiency. Our industry leading integrations and overall functionality of QuoteWerks represents the best in the market and positions all of our users for a competitive advantage in their operations".
The partnership also comes on the heels of a new integration between QuoteWerks and Kaseya that provides users with the ability to seamlessly integrate the two programs together, ensuring a complete solution for MSP's.
To learn more about The 20 and membership requirements visit http://www.the20.com.
For more information about QuoteWerks, visit http://www.quotewerks.com.
About The 20
The 20 (http://www.the20.com) is an exclusive business development group for Managed Service Providers (MSP) aimed at dominating and revolutionizing the IT industry with its standardized all-in-one approach. The 20's robust RMM, PSA, and documentation platform ensures superior service for its MSPs' clients utilizing their completely US-based Support Desk and Network Operations Center. Extending beyond proven tools and processes, The 20 touts a guaranteed sales model, a community of industry-leaders, and ultimate scalability.
About Aspire Technologies and QuoteWerks®
Aspire Technologies, Inc., the developers of QuoteWerks, is one of the early pioneers of the Quoting Software space. QuoteWerks has received numerous awards and is the market leading sales quoting and proposal solution serving over 82,000 users in over 101 countries. QuoteWerks® integrates with leading CRM, PSA (Autotask, ConnectWise Manage, Kaseya BMS, and others), and accounting packages, along with IT distributors D&H®, Ingram Micro®, SYNNEX®, and Tech Data®, enabling businesses in all industries to integrate QuoteWerks® seamlessly into their existing environments. Aspire Technologies is headquartered in Orlando, Florida and is a Microsoft Certified Partner and CompTIA member. For more information, please visit http://www.quotewerks.com.
QuoteWerks is a registered trademark of Aspire Technologies, Inc. Other trademarks referenced are the property of their respective owners.