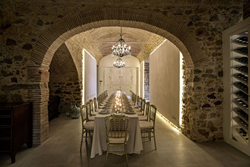 We want to offer people a chance to escape the chaos of day-to-day living and technology.
POOLE, UK (PRWEB UK) 25 January 2018
A Healthy Haven is an upcoming food retreat that was announced by MY Food, a British company that specializes in producing and promoting health-specific diets, as an initiative designed to help people gain control of their busy lifestyles.
The retreat is focused on promoting diversity and healthy eating habits, as well as the stepping down from the fast pace of today's society. The first organized event will last for a total of five days.
Based in the Olhao, Algarve, in Portugal, it is expected to play host to a select number of guests from the UK and from abroad, being counted among the most unique food retreats and food demonstrations organized in recent years.
A Healthy Haven is regarded by experts as an opportunity to experience a healthy retreat to a life of luxury, to learn about the local culture and to observe cooking demonstrations exclusively geared toward healthy nutrition.
MY Food is the main organizer of the event, and their team claim that no expense or effort was spared in the endeavour of orchestrating the upcoming food demonstrations.
"We are all very excited" said Nas, MY Food Founder "we have been working around the clock to ensure everything is perfect for the retreat and there are many people who are eagerly awaiting the results. Without a doubt, it's one of the most expansive initiatives we have attempted at MY Food, and everyone here has high hopes for the retreat to become a beacon for promoting healthy living."
According to the company, there will be a wide assortment of different foods, focusing primarily on natural, healthy choices. Combined with the outlook of a peaceful décor, the prepared food, the accommodation options and the services provided by the MY Food staff are all expected to focus on increasing the balance between inner peace and a balanced lifestyle.
"We want to offer people a chance to escape the chaos of day-to-day living and technology" said Angela, MY Food Founder.
Well-decorated kitchens, hidden areas, luxury combined with modern comforts, and healthy fruit, fish and vegetables are among the highlights of what guests can expect once they arrive in Olhao. The small fishing town is particularly known for its fresh fish and peaceful living, which also prompted the organizers at MY Food to combine food with meditation sessions. Algarve is one of the few locations in Europe where visitors can still experience more than 300 days of sunshine per year.
As the company's representatives at the MY Food HQ have pointed out, the ever-increasing pressure and tension created by modern, fast-paced living, corporate lifestyles and modern technology has led to people having less and less time for events like A Healthy Haven.
The retreat has become one of the few initiatives of this type not only focusing on the external aspects of improving lifestyle choices, such as the option of choosing healthier foods, but also attempting to guide those interested to change their lives completely through healthier practices and habits that can transform the way they see the world.