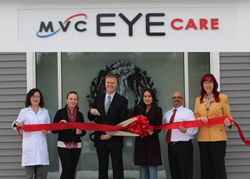 The new Windham office provides our patients with more convenient service throughout all of southern New Hampshire.
MANCHESTER, N.H. (PRWEB) January 18, 2018
MVC Eye Care, formerly known as Merrimack Vision Care, recently opened its fourth office in Windham, NH, located at 13 Indian Rock Road. "The new Windham office provides our patients with more convenient service throughout all of southern New Hampshire," said Dr. Kevin Chauvette, O.D., F.C.O.V.D., owner of MVC Eye Care.
MVC Eye Care, which also has branches in Manchester, Merrimack and Milford, and its subsidiary office, E Vision Eye Care, serves the needy population and is one of the largest Medicaid eye care providers in the state of New Hampshire. Dr. Chauvette and his resident doctor, Lisa Holtman, OD, also provide specialty care for patients that suffer from the visual consequences of brain injury, concussion and stroke.
"It's a niche that not many doctors provide," noted Dr. Chauvette, who is also the director of the Vision Clinic at HealthSouth Rehabilitation Hospital in Concord, Northeast Rehabilitation Hospitals in Salem, Nashua and Portsmouth as well as Whittier Rehabilitation Hospital in Haverhill, MA, where he concentrates in evaluating and providing rehabilitative therapy for patients who have suffered stroke or brain injury. "In addition to myself, the practice employs 9 other optometrists with varied specialties."
MVC Eye Care also treats and manages dry eye disease, performing in-depth testing for patients suffering from dry eye symptoms. "Rather than simply throwing eye drops at the problem, we actually try to find the reason for the dry eye disease and target it," added Dr. Chauvette.
MVC Eye Care provides a full spectrum of eye and vision services. Its optometrists and staff are the top eye and vision care providers for the Southern New Hampshire area. "My eye doctor was extremely thorough and because of this she discovered an ocular melanoma. This is a very rare eye cancer that only happens to 6 people in a million," said patient K.K. "She made sure I had a follow-up appointment with the right eye specialist the very next day."
About Dr. Kevin Chauvette, MVC Eye Care
Dr. Kevin Chauvette specializes in pediatric vision care, vision care for children struggling in school, children with developmental disabilities (autism, cerebral palsy, etc.), with a concentration in the area of neuro-rehabilitation. MVC Eye Care services include eye exams and vision tests, eye disease management, pre-op and post-op care for LASIK patients, and eyeglasses and contact lenses in Manchester. For more information, call the Manchester office at (603) 644-6100, the Merrimack office at (603) 424-0404, the Milford office at (603) 672-0338, or the Windham office at (603) 792-2020, or visit http://www.mvceyecare.com.
About the NALA™
The NALA offers small and medium-sized businesses effective ways to reach customers through new media. As a single-agency source, the NALA helps businesses flourish in their local community. The NALA's mission is to promote a business' relevant and newsworthy events and achievements, both online and through traditional media. The information and content in this article are not in conjunction with the views of the NALA. For media inquiries, please call 805.650.6121, ext. 361.