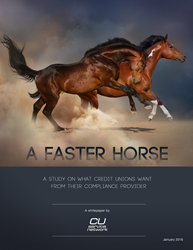 Sr Compliance Manager Kristen Tatlock says, "We've found that credit unions are easily frustrated and dismissive of compliance vendors who treat them like banks. One key to a fulfilling compliance partnership is to communicate on a level where there is no "bank speak."
LAKEWOOD, Colo. (PRWEB) January 16, 2018
Denver-based CUSO (Credit Union Service Organization) CU Service Network has published an in-depth whitepaper on what's lacking from credit union compliance services. The paper focuses on what credit unions actually want from a compliance provider, and the challenges they face in a increasingly burdensome regulatory industry.
Issues discussed in the paper include:
1. Intimacy: A lack of deep understanding about individual credit union needs from their compliance vendor
2. Flexibility: Credit unions are not able to cherry pick what fits their needs, or receive "on-call" style compliance services, both of which are desired
3. Clarity: Credit unions are often left confused with the answers they receive from their vendors
A must read for any credit union executive or compliance officer who is curious about the compliance services industry, and interested in a deeper analysis on what could be improved.
To download the whitepaper, simply click here