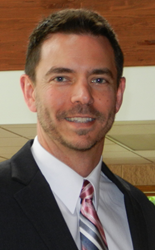 (PRWEB) January 17, 2018
Advantage Engineers, LLC, a professional services company providing comprehensive consulting solutions in the highly specialized fields of telecommunications, geotechnical and environmental, announced today that Chad Brenneman has joined the leadership team as the Director of Human Resources. Brenneman will provide strategic direction in the areas of employee recruitment, compensation, training and development, and benefits.
Brenneman will report to Tim Strickler, Chief Financial Officer of Advantage Engineers.
"Our employees are the heart of the Advantage Engineers service model and culture of client service excellence. As such, Human Resources represents a key component of our strategic growth initiatives," said Tim Strickler. "Chad is a talented and widely experienced Human Resources executive, and I'm thrilled to have him join our leadership team."
Brenneman holds a bachelor's degree in Psychology from George Mason University and a master's degree in Human Resources Management from Widener University. He joins Advantage Engineers with 20 years of corporate human resource management experience and holds senior-level certifications from the Human Resources Certification Institute and the Society for Human Resource Management.
For the past 16 years, Brenneman served as the Director of Human Resources at CP Flexible Packing, a privately held manufacturer. Prior to that, he held Human Resources related positions of increasing responsibility at Oberthur Card Systems, Auntie Anne's, Inc., and Hahnemann University Hospital.
"I'm pleased to join a company that is so well positioned for the future, as a national professional services company with 300+ employees coast-to-coast. I look forward to working with the Advantage Engineers' leadership team and its employees in driving the company's exciting strategic growth initiatives and client service excellence," said Brenneman.
About Advantage Engineers
Advantage Engineers provides comprehensive services in specialized fields of engineering and consulting. The company has more than 300 engineering, project and program management, real estate, geological, scientific, environmental and technical professionals. From their fourteen offices, Advantage Engineers provides services throughout the U.S. The firm is highly sought after by clients in a variety of industry sectors including geotechnical, environmental, and telecommunications engineering. Visit http://www.advantageengineers.com for more information.