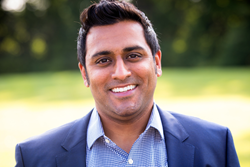 DELAWARE, Ohio (PRWEB) January 16, 2018
Dr. Rajan Sheth recently completed a continuing education course at the Malo Clinic in Lisbon, Portugal. The topic covered numerous aspects of identifying and treating candidates with missing teeth for the revolutionary All-on-4® dental implant treatment method. During the three-day continuing education course, he and other clinicians learned how to treat patients with multiple missing teeth who also have an atrophic (or thinning) jawbone.
The European-based Malo Clinic, a well-respected global learning center, earns its name from Professor Paulo Malo, the inventor of the All-on-4 technique. Now considered one of the gold standards for patients with extensive tooth loss with enough structural support to accept immediate-load dental implants, All-on-4 is becoming increasingly popular in and around Ohio as well as across the country. All-on-4 uses only four dental implant posts to secure a customized, denture-like appliance in place. Patients with thinning jawbone require specific protocols to ensure successful outcomes.
Both Dr. Sheth and his experienced partner, Dr. Diana Park, practice in three locations offering All-on-4 dental implants in Delaware, OH at Delaware Smile Center; Powell, OH at Smile Center Ohio; and Worthington, OH at Linworth Smile Center. Their list of patients also includes individuals from the Columbus, Sunbury and Marion communities. To date, Drs. Sheth and Park have consistently acquired more continuing education credits each year than required, allowing them to achieve the highest possible standards for their patients.
Those interested in making an appointment to discuss getting All-on-4 (or any other) dental implants in Delaware, Powell or Worthington, OH, can call their preferred practice location or visit http://www.smilecenterohio.com.
About the Practice
Dr. Rajan Sheth and Dr. Diana Park offer modern dental care to patients at their three practice locations: Delaware Smile Center in Delaware, OH, Smile Center Ohio in Powell, OH and Linworth Smile Center in Worthington, OH. Dr. Sheth and Dr. Park both graduated from Ohio State University. Dr. Sheth received additional training in pediatric special needs and the adult population with complex medical histories and is certified to offer IV sedation to help patients feel comfortable during their treatment. He and Dr. Park are dedicated to the latest techniques and technology and dedicate more than the minimum number of hours to continuing education courses. This advanced team offers a range of services from dental implants, sleep apnea treatment and orthodontics to complete smile makeovers. With a philosophy of treating their patients as their own family, this team is committed to leading, comfortable care. To learn more about Drs. Sheth and Park or the services they offer visit http://www.smilecenterohio.com or schedule a comprehensive consultation by calling 740-417-9565 for the Delaware, OH location, 614-877-8080 for the Powell, OH practice or 614-305-7446 for the Worthington, OH office.