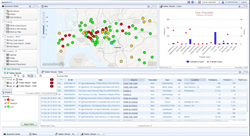 SI Suite is now an even more powerful and flexible environment for meeting real-world operations challenges.
SAN MATEO, Calif. (PRWEB) January 16, 2018
SpaceTime Insight, the leading provider of advanced analytics solutions for asset intensive industries, is pleased to announce a major upgrade of its SI Suite visual analytics platform. SI Suite 6.3 is a landmark release that includes critical new functionality to speed the digitization of companies in transportation and renewable energy industries and water, gas, and electric utilities.
SI Suite's core components comprise a powerful platform for creating operations intelligence solutions with advanced analytics and rich visual interfaces that present a "single pane of glass" for gaining insight into industrial operations. "With this release of SI Suite, we've fully integrated our Warp 6 platform and can deliver applications that collect, analyze, and visualize data from devices and systems in industrial operations in real time. We're also now able to deliver a full range of analytics from cutting edge machine learning to easy-to-use cloud services," said Rob Schilling, CEO of SpaceTime Insight. "For our customers, SI Suite is now an even more powerful and flexible environment for meeting their real-world operations challenges."
Major new functionality in version 6.3 brings:
Enhanced data flows and integration of data-in-motion. SI Suite 6.3 provides extensive new capabilities to support real-time IoT applications and real-time data streams. It supports native integration with SpaceTime's Warp IoT platform and other IoT environments with improved workflow for Kafka-based data streaming, including support for CSV, JSON, and Google Protocol Buffer data formats. SI Suite can now stream data directly into SI Viewer's visual components for real-time visualization of data and events. Streaming data can be joined with non-streaming data and filters can be applied for further exploration.
Enhanced analytics. Companies that don't need or don't have the data science resources to use an R-based analytics infrastructure can now run analyses via REST-based endpoints. Such services can receive input directly from SI Suite and produce results for visualization in SI Viewer as ad-hoc or background processes.
SI Server for Docker. SI Suite is now faster and easier to deploy across a wide variety of operating environments through SI Server 6.3 for Docker. This vastly reduces time and complexity for administrators and enhances the ability to execute SI Server in operating environments previously not possible. SpaceTime's other server components, including its IoT and analytics modules, are also delivered as containers, providing additional benefits to customers using the full SpaceTime platform.
Additional enhancements include: incremental refresh for time-series data sources, improved SI Studio for Mac OS X installation, elimination of Flash dependencies, 14 new Geo Map base maps, a new Tutorial application, and enhanced documentation.
Existing SpaceTime customers can download SI Suite 6.3 and updated documentation through the customer support portal. To request a demo of SI Suite, the full Warp 6 platform, or SpaceTime applications including Asset Intelligence, Asset Sentinel, and Outage Intelligence, visit https://spacetimeinsight.com/contact/.
About SpaceTime Insight
SpaceTime Insight enables organizations in asset-intensive industries to generate more value from their people, processes, and assets. Our award-winning machine learning analytics and Industrial Internet of Things applications optimize operations in motion, in context, and in real time. Teams at some of the largest organizations in the world, including transportation and energy firms and some of the world's largest utilities, use SpaceTime Insight software to power mission-critical systems. SpaceTime is headquartered in San Mateo, CA with offices in Atlanta, Canada, UK, India, and Japan. For more information, visit https://spacetimeinsight.com.