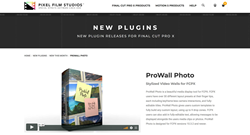 Aliso Viejo, CA (PRWEB) January 15, 2018
ProWall Photo is a media display tool for Final Cut Pro X. FCPX users have over 30 different layout presets, each including keyframe-less camera interactions, and fully-editable titles. ProWall Photo gives users custom templates to fully build any custom layout, using up to 9 drop zones. FCPX users can also add in fully-editable text, allowing messages to be displayed alongside the users media clips or photos.
Users can add photos or video footage to up to 9 different drop zones in a single preset. Each preset has controls to adjust the scale of the drop zone along with the frame size, background color, and more. Additionally, users can adjust the camera movements of the scene while also tweaking the visible overlays.
ProWall Photo has all the familiar controls any user could want, plus many more. ProWall Photo includes keyframe-less camera animations where users simply set a start, mid, and end point. This feature gives the user the ability to create countless camera animations for endless unique variations and looks.
ProWall Photo is exclusive to Final Cut Pro X. These FCPX generators are simply applied to the timeline, and modified to the users liking. Every preset contains numerous universal controls for unlimited versatility. Fully editable text allows the user to display messages throughout each generator. ProWall Photo is designed for any skill level editor, from novice to advanced users.
Established in 2006, Aliso Viejo, California-based Pixel Film Studios is an innovative developer of visual effects tools for the post-production and broadcast community. Their products are integrated with popular non-linear editing and compositing products from Apple FCPX. Apple, the Apple logo, Mac OS X, and Macintosh are registered trademarks of Apple Inc. in the U.S. and/or other countries. All other trademarks and trade names are the property of their respective owners.