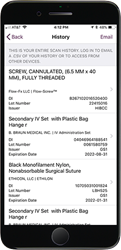 UDI is a reality for the supply chain. UDidentify scans and validates HIBCC and GS1 barcodes in multiple formats to drive efficiency and support patient safety.
MOKENA, Ill. (PRWEB) January 16, 2018
ConnectSx, a startup providing SaaS solutions that support and strengthen the surgical value chain, has launched UDidentify, a free mobile app enabling medical device manufacturers, sales reps, and healthcare providers to easily scan HIBCC and GS1 UDI barcodes, validate them against the federal GUDID database, and view and save critical device information.
UDidentify, available for download on the Apple App Store and Google Play, allows users to scan individual or multiple barcodes simultaneously and then view a history of all UDIs previously scanned, even if they use the app anonymously. Users wanting more flexibility with their data can create a free profile to associate their data with an email address. Once created, they can log into their account from any iOS or Android device to see their complete scanning history and email that history—including all device information—to any email address.
When integrated with the full ConnectSx suite of apps, a range of high-value surgical case information can be associated with each individual device, creating the potential for new business insights, improved care, and device innovation. Features of the ConnectSx platform can be found on the company's website, http://www.connectsx.com/platform.
About ConnectSx
Based in Mokena, Illinois, ConnectSx provides a platform of SaaS solutions purpose-built to help anyone involved in the surgical value chain decrease waste, improve visibility, increase efficiency, and enhance their overall effectiveness, creating the potential for improved patient outcomes.