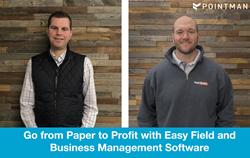 "We love working with Sylvania, who became one of our first Field Nimble customers after we met at AHR last year. This year, we're looking forward to meeting many more 'Sylvanias' as we continue our mission to help small contracting businesses."
BUFFALO, N.Y. (PRWEB) January 18, 2018
Several representatives from Pointman, a SaaS company that creates field service management software and mobile apps for the $800B+ home service industry, will be traveling to Chicago for the annual International Air-Conditioning, Heating, Refrigerating Exposition (AHR Expo) from January 22nd to January 24th. With over 2,000 exhibitors and 65,000 industry professionals in attendance this is the largest HVACR event of the year.
This year, Pointman's leadership team, Steve Kiernan II, CEO/Co-founder and Greg Dooley, Vice President of Customer Success, will be presenting on how to "Go from Paper to Profit with Easy Field and Business Management Software". The summary of the presentation is: If you are still writing job tickets on duplicate forms, let Pointman show you how quick and easy Field Nimble Home Services software and mobile apps are to deploy. In as little as one hour, you can be using Field Nimble to become more profitable. The presentation will take place on the Wednesday of the Expo (January 24, 2018) at 12:25 PM.
Show Events at Pointman Booth 3347-North Hall
In addition to being presenters, Kiernan and Dooley will be interacting with hundreds of industry professionals at the Pointman booth (#3347) giving live demos to those interested in learning more about the Pointman product suite. Additional events hosted by Pointman at the AHR Expo include a Tuesday afternoon "beer bash" featuring local, McCormick-place brewed beers, this event will be held from 1:00 p.m. to 5:00 p.m.
Show Specials at Pointman Booth 3347-North Hall Pointman AHR show special is a free iPAD for new Field Nimble customers, This is valid for anyone attending AHR that registered for the first time with Field Nimble and completes their activation.
Additionally, there is a chance to win a YETI Cooler for anyone that stops by the booth and completes a raffle ticket (no purchase necessary, not required to be present to win).
Overall the team at Pointman is getting excited for the trip. CEO/Co-founder of Pointman, Steve Raines quotes: "We love working with Sylvania, who became one of our first Field Nimble customers after we met at AHR last year." He continued, "This year, we're looking forward to meeting many more 'Sylvanias' as we continue our mission to help small contracting businesses."
The AHR Expo takes place in Chicago at McCormick Place on January 22nd through January 24th. Pointman will have representatives at their booth everyday to meet HVAC industry professionals, answer questions, and give personalized demos. Registration is free for the event, and Pointman will be exhibiting all three days. To see more of what Pointman has to offer, visit their AHR Expo page.
For additional information, please contact:
Jennifer Hillman, Vice President of Marketing
Phone: 716-408-8744 | Hillman(at)pointmanhq(dot)com
http://www.pointmanhq.com
About Pointman
Pointman is a SaaS company that creates field service management software and mobile apps for residential and light commercial contractors. Founded in 2006, Pointman's flagship products are Field Nimble and SWRemote, which are used by thousands of contractors in the plumbing, electrical and HVAC industries.
Pointman's software and mobile apps are easy to deploy and simple to use; giving small business owners just what the need, more time.