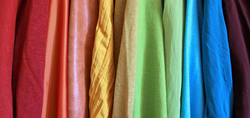 Just as a painter needs a full color palette and the right kind of paint, so must a fashion designer have access to materials of all colors, materials, and types
LOS ANGELES (PRWEB) January 18, 2018
A January 8th article in the Los Angeles Times features some of the fashion highlights of this year's Golden Globe awards. The featured dresses shared a specific color, black, which awards show attendees were wearing in support of the #MeToo movement against sexual assault and harassment. Los Angeles-based wholesale fabric provider Fabric Selection Inc. says that creating the gorgeous black fashion statements won by such striking attendees as actors Sally Hawkins and "Handmaid's Tale" award winner Elisabeth Moss requires designers to have access to a wide variety of material. Just as a painter needs a full color palette and the right kind of paint, so must a fashion designer have access to materials of all colors, materials, and types, says the wholesaler.
Fabric Selection Inc. said that a designer's creativity is only as good as the material she has access to, so it's important to provide as many options as possible so that there is room for creativity. The firm notes that the Golden Globes is an outstanding example because, while most of the guests were wearing black, the dresses they wore were gloriously diverse. From the classical shoulder-exposing Atelier Versace gown worn by Oprah prior to her celebrated acceptance speech, to Elizabeth Moss's demure Dior, to the slim fitting all back suits from Miuccia Prada won by noted actors Sam Rockwell and "Baby Driver" star Ansel Elgort, the wholesaler notes that the kind of choices in terms of the type of fabric and it's texture clearly made a huge impact on the variety of impressive fashions that were seen at the show.
The wholesale vendor adds that while clothing can help to comment on a wide variety of issues – sometimes explicitly as in a slogan on a t-shirt or ball cap, or implicitly through colors and other signifiers. The firm adds that designers who want to make a bold statement on anything have a wealth of materials at that their disposal. From such materials as linen, cotton, French terry, modal fabric, bengalin, and jacquard as well as knit prints and solid or printed lace and colors across the spectrum designers today can now benefit from speedy access to a vast array of fabric options, says the firm.
Readers who like to learn more about the many options for quality conscious clothes designers and manufacturers that are now available are welcome to visit the Fabric Selection Inc. web site at http://www.FabricSelection.com or contact the firm by phone at (213) 516-7053. The wholesale fabric supplier is open five days a week, from 9 a.m. to 5 p.m. PST, and they can always be reached via email.