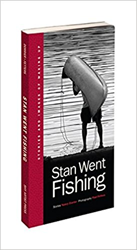 This book is a means of bringing our conversations to you. The stories and photos are about life, and even though they come from a specific life, you can read them and find yourself in each. --Nancy Dorrier
DALLAS (PRWEB) January 16, 2018
Stan Went Fishing: Stories and Images of Waking Up, by Nancy Dorrier and Paul Fetters, is an inspiring book with writing that invites reflection and invokes a sense of wonder. Nancy's stories, paired with Paul's photographs, come together in a unique and beautiful fashion.
Stan Went Fishing presents "vivid moments in time about what it means to be human, captured in 150-word essays, paired with riveting photographs," says Nancy Dorrier. "We set out to tell everyday stories that provide readers with a lighter approach to their lives," says Paul Fetters, the photographic eye behind this work of art.
Stan Went Fishing grew out of Nancy and Paul's willingness to challenge each other to see what is right in front of them, hidden in plain sight.
The stories stem from a writing practice that Nancy shares with executives to deal with their goals and challenges in powerful, resourceful ways. "Writing is a standard practice for us in having people discover their own wisdom and emerge as authentic, powerful leaders," Nancy says.
"Our creative practices with pen and camera gave us the means to an understanding we wouldn't otherwise have had," says Dorrier. "Through this work, we willingly expose the unevenness of our eyes, minds, and hearts. The images were made in different locations at different times, mostly featuring subject matter other than that of the written stories they accompany."
While each element—essay and photograph—contains its own light and message, the play between each pair creates a third story in which the creators hope the readers find themselves and meaning beyond the parts.
After reading through the stories and viewing the images, readers will look at themselves and others with compassion, reflect on the value of relationships in their lives, discover something new about past or current experiences, and see the world with a fresh pair of eyes.
"This book is a means of bringing our conversations to you. The stories and photos are about life, and even though they come from a specific life, you can read them and find yourself in each."
"We offer this project with the intention of leaving you a bit wiser, quite a bit lighter, and, perhaps, inspired to embark on a similar exploration of your own," Dorrier says.
Nancy Dorrier is co-founder and owner (1986) of Dorrier Underwood, an executive and organizational development firm in Charlotte, NC. Based in Falls Church, Virginia, Paul Fetters travels throughout the U.S. and the world completing assignments for corporate, nonprofit, and magazine clients.
For more information or to purchase Stan Went Fishing: Stories and Images of Waking Up, visit http://www.stanwentfishing.com.