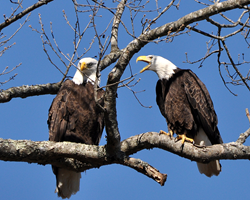 "Eagle's bones are hollow, so their feathers can weigh up to twice as much as their skeleton." - Aviva Yasgur, Kentucky Dam Village Resort State Park Naturalist
(PRWEB) January 17, 2018
"We have a bald eagle at two-o'clock. Oh, and there's another one at three."
Phrases like this are heard regularly by individuals enjoying bald eagle viewing tours during January and February in the northwestern region of the Tennessee River Valley. The weekend trips are conducted on water and land and are available through February 17, 2018.
More than 200 bald eagles migrate to this region in winter, adding to the area's already impressive eagle population. Visitors have two viewing options: excursion yacht voyages on the Tennessee River or van tours that travel to eagle hot spots in the area. Individual trips are sponsored by Kentucky State Parks, Land Between the Lakes National Recreation Area and Paris Landing State Park. Prices range from $10 - $70.
Aboard the C.Q. Princess, a 96-foot yacht, passengers travel downstream, passing slowly through the waters of the Tennessee River. Some stand on the decks with binoculars or cameras in hand, while others remain inside the warm cabin, enjoying the expansive view through wrap around windows. As the boat skirts the banks of the undeveloped Land Between the Lakes, state park naturalists and other conservation experts scan the woods and sky, alerting passengers to eagle sightings via intercom. These eagle aficionados take turns providing commentary which focuses on the history, unique makeup and conservation efforts of America's national symbol. Throughout the 3-hour trip, these individuals mingle with passengers to chat about bald eagles, as well as other wildlife.
"When an eagle picks up a fish from the water, his talons will not release it until he reaches land," one naturalist explains. "Misjudging the weight of his prey can be fatal."
"Eagles' bones are hollow," says another expert. "So their feathers can weigh up to twice as much as their skeleton."
Several monitors, fed from cameras at the bow are helpful in spotting the eagles. The majestic birds are often high in trees on the bank, surveying the water for lunch swimming below.
Van tours provide an affordable alternative to the water, taking guests into the hills and hollows along the river to areas where eagles and other migratory birds visit in winter. Tour guides and naturalists who are intimately familiar with the region provide guests with binoculars and spotting scopes to create an up close and personal, wildlife watching event.
These viewing experiences are hosted by several state parks and LBL during peak migratory season along the Tennessee River. Lodging is available at each state park.
Lake Barkley State Resort Park (270-924-1131) in Cadiz, Kentucky offers yacht and van tours to LBL on January 19-21.
Kentucky Dam Village State Resort Park (270-362-4271) in Gilbertsville, Kentucky offers yacht and van tours to the Ballard Wildlife Management Area on January 26-28.
Kenlake Resort State Park (270-474-2211) in Hardin, Kentucky offers Eagle Weekends with evening programs February 2-4 and an Eagle cruise on February 9. Brunch cruises are available on February 4 and 10. Lunch cruises take place on February 2 and 10.
Park Landing State Park (731-641-4465) in Buchanan, Tennessee offers breakfast and lunch cruises on February 17 and a brunch cruise on February 18.
Land Between the Lakes National Recreation Area (270-924-2000) located between the Tennessee and Cumberland Rivers offers eagle viewing lunch cruises February 14. Van tours are available January 21, 27, 28 and February 3 and 4.
Visit the Tennessee River Valley Geotourism website for information on other exciting winter activities in the Valley.