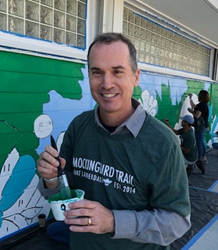 We wanted to support our community in making Fort Lauderdale a more beautiful place to live, as well as a place for local businesses to thrive.
FORT LAUDERDALE, Fla. (PRWEB) January 17, 2018
Florida Vision Technology employees stepped up to volunteer on January 15th, the Martin Luther King Day of Service, to paint an interactive mural on the Lighthouse of Broward in Fort Lauderdale. Florida Vision Technology provides assistive technology equipment solutions to help the blind and visually impaired regain their independence, with the Lighthouse of Broward being the premier resource center for the visually impaired community.
Lesa Berg Kretschmer, Founder and CEO of Florida Vision Technology, has been a part of the local business community in Fort Lauderdale for 24 years. In a recent interview, Kretschmer stated "We wanted to support our community in making Fort Lauderdale a more beautiful place to live, as well as a place for local businesses to thrive. The Martin Luther King Day of Service seemed like the perfect opportunity to come out and support our neighborhood".
The Lighthouse of Broward art mural is part of the Mockingbird Trail, Broward County's first urban art trail. The trail is named after the official bird of the State of Florida and runs approximately two miles. It features green walkways, outdoor seating, exercise routes, urban street furniture, and more than a dozen public art installations along the path. The Project was initiated by Cadence (a landscape architecture firm ) in partnership with Unconventional, an organization that inspires artists to become civic leaders and create interactive murals to inspire the community and beautify neighborhoods. The mural itself was designed by Unconventional artist, Ernesto Maranje.
The Mockingbird Trail Strategic Plan refers to the concept as "creative placemaking" which serves livability, diversity, and economic development goals. Kretschmer added, "The trail connects local businesses to the community. These improvements will attract more residents, increase pedestrian foot traffic, and generate more economic opportunities for both residents and business owners. It's a win-win for everyone".
You can see, smell, feel and hear the mural – allowing the community and visually impaired a new way to experience art. Lesa Berg Kretschmer and her staff at Florida Vision Technology truly want to make Fort Lauderdale a better place for everyone to live, work, and play.
To connect with Lesa Kretschmer and Florida Vision Technology, call 1-800-981-5119 or stop by the store at 650 N. Andrews Avenue, Ft. Lauderdale, FL 33311. Like what they are doing? Visit their Facebook page at https://www.facebook.com/FloridaVisionTechnology/. Stay informed about technology solutions for the blind and visually impaired and take advantage of special offers by joining their Email list here. To learn more about the company and its efforts, watch this video.
About Florida Vision Technology
Florida Vision Technology is a minority certified small business based out of Fort Lauderdale. Lesa Berg Kretschmer, founder and CEO, has worked in the blindness and low vision industry for more than 24 years. She is committed to placing the best adaptive technology and products available today within reach of blind and visually challenged people of all ages and walks of life.