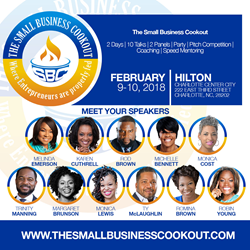 We are grateful to the speakers for their support of our first entrepreneurial summit," said Rod Brown, COO of OnceLogix. "Our aim for the panel partnership is to transition the attendees from good to great with a higher chance of achieving success in their respected fields of business.
CHARLOTTE, N.C. (PRWEB) January 16, 2018
Monica Lewis, Source Thought CEO and Romina Brown, CEO & Founder of Strategic Solutions International will lead a panel discussion at The Small Business Cookout Summit to be held February 9-10, 2018, at The Hilton Center City of Charlotte.
The seven-figure sandbox panel is a discussion amongst individuals that will demystify the theory behind the difficulties of achieving more than six figures in revenue. The panelists will provide tips that will hack the benchmark of six-figure businesses.
Hosted by the Founders of OnceLogix, The SBC will consist of a two-day experience. Attendees will immerse in knowledge and best practices that will take the individual and their business to the next level.
At the Summit, Brown will discuss will discuss the following topics: The Value of Minding Your Own Business, Pioneering in Niche Service and Strategic Growth.
"As business owners, we sometimes get so focused on achieving goals that we may unintentionally neglect the need for continuous professional development," said Brown. "Further, as the owner of a niche professional service consultancy, I've had the opportunity to blaze a path into unknown territory. On this journey, I have embraced and fully utilized my God-given talents and skills to develop a service platform that rivals any multi-national Fortune 100. I am honored to share my experience and to listen and learn at the Small Business Cookout."
Monica Lewis is a sought-after consultant, successful multi-business owner, accomplished mental health professional, and bestselling author who is determined to help others through their journey to obtain joy consciousness.
"The Small Business Cookout gives me the opportunity to network with an exclusive group of serious players that are constantly positioning themselves to take their personal lives and businesses to the next level," Monica concluded.
About OnceLogix
OnceLogix, LLC is a nationally recognized award-winning Software Company in Winston-Salem North Carolina. Over the past 10 years, OnceLogix founders have created several successful, profitable businesses that continue to sustain profitability year after year. In 2016, Inc. magazine ranked our Winston-Salem based company 3,719th on its 35th annual Inc. 5000 list, the most prestigious ranking of the nation's fastest-growing private companies. The list represents a unique look at the most successful companies within the American economy's most dynamic segment – its independent small businesses. After learning that less than 1.5% minority-owned companies were on the list, the founders concluded that they wanted to do something to help with this systemic problem creating The Small Business Cookout.
For more information about Romina Brown, please visit http://www.ssiconsults.com.
For more information about Monica Lewis, please visit http://www.powersourcelife.com.
For more information about the Small Business Cookout and to register, please visit the conference website here: http://www.Thesmallbusinesscookout.com.