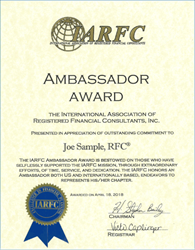 They [Ambassadors] view it as a sense of pride and professional payback to support a non-profit Association and its programs committed to backing the financial professional and their clients...IARFC Chairman and CEO, H. Stephen Bailey, MRFC.
Middletown, OH (PRWEB) January 17, 2018
This mission fosters and enhances the growth of the Association for the benefit of the members and the clients they serve by providing a continuing source of information, education and networking. The Association strengthens the financial services profession through adherence to and promotion of ethical behavior by their members and a focus on continuing professional education.
The criteria for the Ambassador Award supporting this mission are:

IARFC member for more than 1 year
Current "Ethics Approved" status or in good standing
Successfully supported the goals of the Association and has served with extraordinary efforts of time, service and dedication
For the initial year of the Ambassador Award, the following US based and International individuals will be honored at the 2018 IARFC Biltmore Conference in Asheville, NC April 17-18, 2018:

United States – Michelle K. Blair, RFC®; Isabel Cooper, RFC®; Jon M. Rogers, MRFC
China – Ben Liang, JJ Liang, Liang Tien Lung
Hong Kong/Macau – Teresa So, RFC®; Allan Wan, RFC®; Samuel W.K. Yung, RFC®
Malaysia – Jeffrey Chiew, RFC®
Philippines – Ralph Liew, RFC®; Melendres Ismael
Taiwan – Kai Tu Yuan
Subsequently, each chapter will identify their own Ambassador on an annual basis.
"We are honored to recognize the work and support that these distinguished individuals have given to the IARFC," commented H. Stephen Bailey, MRFC and IARFC Chairman. "They view it as a sense of pride and professional payback to support a non-profit Association and its programs committed to backing the financial professional and their clients."
Registration for the 2018 IARFC Biltmore Conference is closing soon. Take advantage of discounted room rates and early registration For a complete list of presenters and topics, exhibitors and other events, visit the IARFC website. "We will be looking forward to networking with these outstanding individuals come April at the Conference," continues Bailey. "We gratefully appreciate their altruistic contributions to our industry."