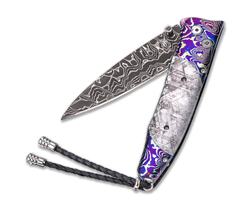 The most popular Valentine's Day gifts for men this year are exquisite, hand-crafted pieces designed to be timeless classics
PORTLAND, Ore. (PRWEB) January 17, 2018
They have soul. They are timeless. They are fierce: A Valentine's Day gift from William Henry checks the list for women seeking to give something truly special to the man in their lives.
"Our top selections for Valentine's day this year don't just capture a passionate spirit, they grab hold with a vengeance and never let go," said Matt Conable, founder of William Henry and lead creative designer. "Each piece has a rich, deep and fascinating story, like the men who possess and covet them."
Highly-collectable William Henry accessories are individually tooled by some of the best master craftsman found throughout the globe, using organic materials including fossil mammoth tooth and dinosaur bone, meteorite and rare metal alloys inspired by 500-year-old samurai sword techniques. From incredible, one-of-a-kind luxury pocketknives to exquisite men's jewelry, pens, money clips and more, every William Henry piece is designed to intrigue and captivate.
William Henry Top Three 2018 Valentine's Day Gifts include:
1) William Henry Galaxy pocketknife. $3,500
With an edition of only 100 pieces, the William Henry Gentac Galaxy features meteorite inlays (from prehistoric Gibeon meteorite found in the desert of Namibia) and a hand-forged Damascus blade, with a frame of heat-blued titanium. The one-hand button lock and thumb stud are set in sapphires. Sleek and comfortable, the Galaxy is a rugged yet elegant classic.
2) William Henry "Mammoth Retro" bracelet. $1,950
Offered in sterling silver with WH's signature "leaf" pattern, inlaid with 10,000-year-old fossil mammoth tooth and an inset blue sapphire gemstone, the Retro is as fascinating, timeless and legendary as the man who wears it.
3) William Henry "Bolt Kona" rollerball pen. $375
For the man who appreciates the finer things in life, whether it's the perfect cup of coffee or an exceptional writing instrument. The Bolt Kona pen from William Henry has a barrel made from real coffee beans cast in ivory acrylic resin, this sleek and elegant pen catches the eye, writes beautifully and is adorned with smoky quartz gemstones.
About William Henry
William Henry is an American luxury brand for men, devoted to the vision of designing and crafting collections that integrate form and function into exquisite and unique pieces, including jewelry, award-winning pocketknives, writing instruments and money clips. The hallmark of the company's work is the seamless integration of classic natural materials, precious metals and gemstones, and state-of-the-art alloys to create superb designs that have made William Henry one of the most admired and sought-after brands in the world of luxury for men. For more information, visit WilliamHenry.com
Contact: Darcie Meihoff, darcie(at)leoketel(dot)com or 971-998-3782. Note: William Henry accessories and product samples for photography are available for editorial and hi-res product images are available upon request.