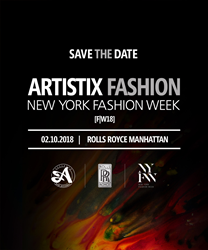 "No brand has ever presented a show like this, mixing rock and roll, art, fashion, and Rolls-Royce." -Greg Polisseni
NEW YORK (PRWEB) January 16, 2018
ARTISTIX by Greg Polisseni is poised to present their Fall/Winter 2018 collection during New York Fashion Week on February 10th at 7:30 p.m. at Rolls-Royce Manhattan, 270 11th Avenue. The show will be presented by the brand's Creative Director, Andy Hilfiger and will include both men's and women's looks.
As are all ARTISTIX collections, this collection, titled Bellezza, is based on Greg Polisseni's original art piece of the same name. This will be ARTISTIX fifth appearance at New York Fashion Week, during which time their shows have gained recognition for their high-intensity environments, unique choice of venue and distinctive clothing. Previous collections can be found at Lord & Taylor, KITH, and various specialty stores around the world.
"Every season I strive to create something of beauty that has never been done before and this season is no different," said owner and creator, Greg Polisseni. "No brand has ever presented a show like this, mixing rock and roll, art, fashion, and Rolls-Royce."
The presentation will begin promptly at 7:30 p.m. and will include a total of 20 male and female looks. The VIP pre-event press hour will begin at 6:15 p.m. the day of, while the official invite will be sent out via GPSRadar.com. Hair and makeup will be sponsored by Marcello Costa and the show will be cast by Maurilio Carnino. Lighting and sound will be provided by MJ Records, while the show is being produced by Sanbar Performance Corp.
To RSVP to the event or to schedule a preview of the collection, please contact:
Giana Elenterio
gelenterio(at)artistixfashion(dot)com
212-398-3845 ext: 5
http://www.artistixfashion.com
@prgirl_g
About ARTISTIX Fashion:
A unique clothing brand founded by artist Greg Polisseni in the Fall of 2013. Greg has found passion in his artwork since childhood by creating original paintings that serve as the inspiration for his fashion lines. ARTISTIX has become a way for him to express his art, design, and creativity not only on a canvas but on clothing as well. The goal of the brand is to bring a fun, edgy, and a distinctive vibe to our clothing that complements your personal style.
About Greg Polisseni:
Greg Polisseni is an artist, fashion designer and visionary. Greg created ARTISTIX in the Fall of 2013 with one clear vision in mind, to create wearable art. Throughout his entire life, Greg has found art as a way of self-expression and wanted to offer the same outlet to consumers. Each of ARTISTIX unique collections is based on an original painting by Greg, making each piece of clothing a collectible item.
About Andy Hilfiger:
Andy Hilfiger joined as the Creative Director of ARTISTIX Fashion in April of 2016 with the vision of elevating the brand to the next level. Andy, whose previous ventures include the launch of the JLo brand Sweetface, the Adam Levine collection and the Nicki Minaj collection, embodies the idea of merging music, art, and fashion. With over 30 years of experience in the fashion industry, including his time at Tommy Hilfiger, Andy believes that ARTISTIX is the next big thing in the luxury streetwear culture. Learn more at http://www.andyhilfiger.com
About Rolls-Royce Manhattan:
Rolls-Royce Motor Cars Manhattan is dedicated to providing an exceptional customer experience. Our customers can be assured of the highest standard of service and professionalism, ensuring that choosing a Rolls-Royce Motor Car is as unforgettable an experience as the vehicles themselves.