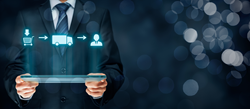 "The growth of eCommerce and changing delivery expectations are creating huge opportunities for our customers and making the delivery platforms critical in their success," said Sudhakar Kunji, VP of Customer Success, nuDeliverIt™
ATLANTA (PRWEB) January 16, 2018
nuDeliverIt™ Customers Enjoy A Successful Peak Shipping Period
nuDeliverIt™, an Atlanta based award-winning final mile delivery and transportation SaaS solution provider, announced today that its customers enjoyed a very successful peak shipping period this season.
nuDeliverIt™ is a SaaS platform providing final mile delivery and transportation tracking and execution capabilities for a number of carriers, 3PLs, freight forwarders and retailers. Along with real-time visibility capabilities, the platform has advanced route planning and optimization capabilities to manage the eCommerce pickup and delivery, time constraint based delivery management and superior customer experience capabilities.
"The growth of eCommerce and changing delivery expectations are creating huge opportunities for our customers," said Sudhakar Kunji, VP of Customer Success, nuDeliverIt™. "..and making the delivery platforms critical in their success. We are proud to be an integral part of our customers' success story this season."
"As with most freight companies, Q4 is our busiest season where we typically see an increase in deliveries of at least 30%. Our final mile delivery business relies heavily on the nuDeliverIt™ system for managing our delivery operations…," said Glenn Adelaar, Senior VP & CIO, Forward Air. "Thanks to the features and dependability of the nuDeliverIt™ SaaS platform, we were able to put the focus to business performance and customer service rather than internal efficiency."
"The delivery tracking, exception management, and survey capabilities of nuDeliverIt™ SaaS platform are integral parts of our operations," said Chris McMillin, VP of Information Systems, AIT Worldwide Logistics, Inc. "The exceptional performance of the platform and unmatched customer support of the nuDeliverIt™ team were instrumental in meeting the increased demands of business this season."
"A SaaS business application is unique in that our operations depend on it. Especially during the busy season, the application is a key component of our success…," says Ned Kriegshauser, Director of Credit and Billing Services, Hogan Transports, Inc. "nuDeliverIt™ provides not only the best solution for our business but also great dependability and superior customer support."