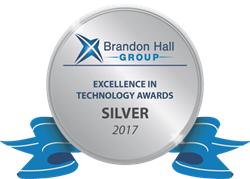 "We're honored by the recognition of our industry leadership."
NEW YORK (PRWEB) January 17, 2018
Recruitics has earned the highest honor for the "Best Advance in Talent Acquisition Technology" category in the Brandon Hall Group's Excellence in Technology Awards for 2017.
The award-winning Recruitics Action is a programmatic job advertising platform that makes it easy for employers, staffing companies and job boards to optimize their recruitment marketing ROI.
"We're honored by the recognition of our industry leadership," said Recruitics CEO Josh Gampel. "We've developed this innovative platform based on both our experience helping companies better understand and optimize their recruitment marketing strategies and our unique data-driven approach to improving recruitment ROI. Since inception, Recruitics Action has helped companies optimize over 48 million jobs globally."
As the pioneers of the first programmatic buying technology specifically for the recruitment and talent acquisition space, Recruitics provides industry professionals with an easy-to-use platform that helps them optimize and automate the management of their recruitment marketing vendors through rules-based, data-driven technology.
"Human capital management is evolving faster than at any time in its history, and it is powered by innovative technology developed and implemented by organizations big and small," said Rachel Cooke, Chief Operating Officer of Brandon Hall Group and head of the awards program. "The technology innovators who won Excellence Awards this year were focused on providing users with a better overall experience. That is what our research says employers want, and our award winners are leading the way."
Mike Cooke, Chief Executive Officer of Brandon Hall Group, said, "Our technology award winners are truly outstanding and set a high bar for others. We have learned a great deal from what they have accomplished. The awards programs supplement our quantitative research in providing our team with unique insights to share with our members and clients."
A panel of veteran, independent senior industry experts, and Brandon Hall Group senior analysts and executives evaluated award entries based upon the following criteria:
· Product: What was the product's breakthrough innovation?
· Unique differentiators: What makes the product unique and how does it differ from any competing products?
· Value proposition: What problem does the product solve and/or what need does this product address?
· Measurable results: What are the benefits customers can expect to experience as a result of using this product?
To learn more about Recruitics Action, visit the website.
About Recruitics
Recruitics is the leading recruitment marketing analytics and advertising platform that makes it easy for companies to understand and optimize their job advertising strategies by leveraging real-time data and programmatic technology. Founded in 2012, Recruitics works with the nation's largest employers, staffing agencies, and job boards to drive more applicants to their online job postings, hire great talent, and achieve their recruitment goals. Recruitics also partners with a number of other ATS systems in the US to provide seamless integration and tracking. The company is headquartered in New York City, NY and is privately owned and operated. You can find Recruitics online or follow @Recruitics on Twitter.
About Brandon Hall Group, Inc.
With more than 10,000 clients globally and 25 years of delivering world class research and advisory services, Brandon Hall Group is the most well-known and established research organization in the performance improvement industry. We conduct research that drives performance, and provides strategic insights for executives and practitioners responsible for growth and business results.
Brandon Hall Group has an extensive repository of thought leadership, research and expertise in Learning and Development, Talent Management, Leadership Development, Talent Acquisition and Human Resources. At the core of our offerings is a Membership Program that Empowers Excellence Through Content, Collaboration and Community. Our members have access to research that helps them make the right decisions about people, processes, and systems, combined with research-powered advisory services customized to their needs. (http://www.brandonhall.com).