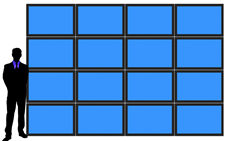 4 x 4 Video Wall by using LED TVs.
SILVER SPRING, Md. (PRWEB) January 18, 2018
AA Rental announces its video wall rental services, offering customers from various industries and niches access to multiple high-definition video displays in one to create a single large display that can handle several different display formats.
Video walls are available in LCD and LED, with 4K and OLED coming soon. They vary in size, resolutions, and dimensions, and are ideal for all types of events, including corporate, educational, worship, and family events. Video walls generally range in size from 2x2 displays to 6x6 displays, and sometimes even bigger. They generate large, attention-grabbing digital displays that can be configured in several different shapes and sizes to display either one large image or multiple images.
AA Rental's recently introduced video wall rental services are ideal for short-term business or event solutions, and are available daily, weekly, and monthly. The company's wall video rental services support all sorts of inputs, including HDMI, DVI, Display Port, and so forth. Video wall rentals from AA Rental come with wall mounts, floor stands, table stands, and other equipment if required. Equipment is delivered to the venue of choice, and technicians are on-hand to setup and install the video wall.
AA Rental's seamless video wall rental services, quick delivery, round-the-clock customer support, and affordable prices make high-definition video walls the perfect way to ensure a successful event.
AA Rental is the leading provider of AV equipment rentals and services, serving clients in Washington, DC, NY, Richmond, Virginia Beach, Maryland, Chicago, Atlanta, and Orlando areas. The company has been offering the highest quality audio visual equipment for rent, including projectors, sound systems, lighting, computers and laptops, screens, and every other type of A/V equipment. AA Rental carefully maintains and delivers A/V equipment to venues of choice, often with same-day services. Technicians are also available for on-site services, as well as to set up and disassemble equipment. Customer support is offered 24/7 to all US customers on all equipment rentals.