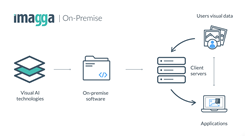 Our on-premise offering is the ultimate data control solution for all types of companies with highly sensitive corporate content. Installed on a local server, Imagga's visual content recognition can process billions of images, all without leaving the company's servers. CEO - Georgi Kadrev
NEW YORK (PRWEB) January 22, 2018
Today, Imagga, the premier provider of visual recognition for businesses, launches On-Premise to help businesses process their visual content locally, safely and privately. Auto-tagging, auto-categorizing, color extraction, custom training and face recognition are now available to data-sensitive businesses who can now run Imagga's visual A.I. technology while remaining fully compliant with all privacy laws and regulations.
Talk to any CTO and you'll quickly find that data privacy is a top concern and can take up to as much as 20% of their annual budget. And it's with good reason - with hackings and data leaks occurring daily, privacy is a growing concern worldwide.
Companies are looking for products they can trust - and in the visual recognition space, sometimes data must be protected at all costs. Imagga solves this problem by offering full deployment of their image recognition software on company's private, secure local servers.
In Europe, the General Data Protection Regulation, which strongly restricts the movement of data, is about to take effect (March 2018) while in the United States, existing privacy law already limit the circulation of data. A recent study also revealed that, of the known cloud services, only 8.1 percent meet the strict data security and privacy requirements of enterprises. Imagga On-Premise Plus offers a secure solution for businesses who need to be both legally compliant and highly secure.
With already 21 months of intensive testing and implementation (European Telco company Swisscom was first to implement in a real time environment in 2016), Imagga's on premise solution is not only extremely stable and mature but it is also backed by a top tier dedicated support team.
Read More About Imagga's On Premise Offering
About Imagga:
Imagga is a Visual A.I. Platform-as-a-Service providing APIs for enterprises, businesses and developers to build scalable, image and video intensive solutions. Built for scalability and easy deployment, Imagga optimizes machine learning to deliver auto-tagging, auto-categorization, smart-cropping, color analysis, content monitoring, face recognition and custom classification to the most demanding image-centric applications. Imagga has been recognized by IDC as one of the top innovators in its space for the year 2016.