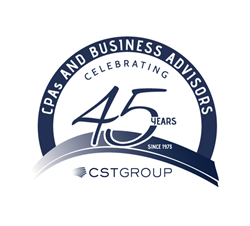 RESTON, Va. (PRWEB) January 22, 2018
CST Group is pleased to announce that Ric Nelson, CPA, CFP, CGMA has joined the firm as a Director in the tax department. Ric comes to the firm with 37 years of public accounting experience. After graduating Magna Cum Laude from the University of Maryland at College Park in 1981, Ric spent his first seven years in public accounting with various small and mid-sized regional firms in Maryland. Ric joined one of the top ten CPA firms in the Metropolitan Washington area in late 1987. Ric stayed at that firm for 27 years, until it was merged with the 11th largest CPA firm in the nation in November of 2014.
Ric has been with CST Group since early September and was recently asked how he felt about joining the firm after so many years at one employer. Ric replied that he felt "the three E's" about joining and being with the best CPA firm in Reston: "Energized, enthusiastic, and ecstatic," to be with such a great group of top-notch professionals, that also happen to be a great group of people to work with.
Ric was raised in Saint Mary's County in Southern Maryland and remained in the Southern Maryland area until 1993, when he and his wife, Mary moved to Reston, VA, where they still live today, along with their son, Tony.
CST welcomes Ric to their team and value the expertise he will bring to the company.
About CST Group:
CST Group is a certified public accounting firm serving Northern Virginia and the Washington, DC region for 45 years. The firm provides comprehensive accounting, tax, and business advisory services for small businesses, medical practices, real estate firms, government contractors, non-profit organizations, as well as for professionals and business owners. CST Group's mission is to deliver forward-thinking client-centric solutions and industry-specific expertise from top-tier professionals. CST Group steers our clients to success with innovative and effective solutions to their most pressing accounting, tax and business challenges. To learn more about CST Group visit CST-CPA.com
CST Group is consistently ranked among the top certified public accounting firms in the Washington, DC region and is named one of the Top 300 accounting firms in the US by Inside Public Accounting. CST is also recognized on a consistent basis as an employer of choice.