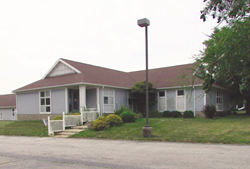 JACKSONVILLE, Ill. (PRWEB) January 17, 2018
Gateway Foundation, the largest non-profit provider for substance use disorder (SUD) treatment in the US is proud to announce further growth and expansion in its state of origin, Illinois. In 2017, Wells Center in Jacksonville closed its doors but less than a year since then, the site that once was its home is getting new leadership and a 2nd chance to continue giving back to the Jacksonville and surrounding communities. Gateway Foundation is celebrating its 50th anniversary in 2018 by furthering its mission to serve as many people as possible who need quality, comprehensive treatment and support for SUD and what better way to kick off the new year then by making progress towards this goal. "The closure of Wells Center substance use disorder treatment was a huge loss to the community of Jacksonville and State of Illinois. For 50 years, The Gateway Foundation has stepped up to support the people of Illinois with a firm commitment to excellence and Gateway Jacksonville is no exception. We thank the Wells Center board of directors, Jacksonville leaders and Director Bruni of the IL Division of Alcoholism and Substance Abuse for their shared vision of treatment access for all. Gateway Jacksonville will specialize in providing residential and outpatient treatment, safe recovery housing and medication assisted treatment to publicly and privately insured individuals," said Dr. Tom Britton, Gateway Foundation CEO.
This new center in Illinois means that Gateway Foundation will now have fourteen locations throughout the state for residents to access, contributing to the capacity which is often limited outside of the Chicagoland area. Kerry Henry, Executive Director and leader of three programs in the Springfield area, a 20 year veteran of the Gateway Foundation leadership team will be leading the opening of the newest Gateway Foundation site. "I am excited to be a part of Gateway at a time when we are experiencing growth and opportunities for innovative treatment models in new locations," Ms. Henry said. This Gateway Foundation Jacksonville Center will offer the full continuum of services to include recovery home services, in-patient residential treatment services, intensive outpatient services and basic outpatient services. The site will become part of Gateway's portfolio of locations today and will be ready to open at full scale in the Spring of 2018. Eighty jobs were lost in the closing of The Wells Center and Gateway Foundation is excited to return employment opportunities to the Jacksonville community with the opening of Gateway Jacksonville.
A ribbon cutting ceremony and open house will be scheduled for the Spring of 2018 as the center is prepared to be fully operational. An announcement for this event and to inform partners of the expansion of services will be forthcoming. For more information regarding this Press Release please contact Jason Stutz at 312-663-1130.