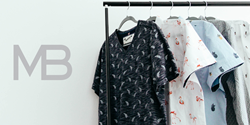 (PRWEB) January 18, 2018
Menswear brand Michael Brandon is now online. Behind the scenes for almost 20 years in wholesale retail, the brand has now decided to move into E-commerce to become more accessible to its consumers. The recently launched website, MichaelBrandon.com, features all the newest arrivals and more available for purchase. These items are stocked in limited quantities and will consistently be replaced by new styles.
Intent on creating wearable style for the every day man, Michael Brandon incorporates trends into staple pieces for style that has longevity. Putting all its cost into the quality of the fabric, the brand stays affordable and steers away from pretentious fashion. Michael Brandon promotes simplicity and does not believe in driving costs just to build good repute.
In order to connect even more with its consumers, the brand has created a social media presence and is now available on Facebook, Instagram, and Twitter. Generating new content daily, the Instagram showcases many styles from denim to outerwear that can be viewed on the website until they are sold out.
The Michael Brandon collection is available for purchase at http://www.michaelbrandon.com.
Follow the brand on Instagram at @michaelbrandonofficial and reach out on Twitter for any questions @mb_customercare.