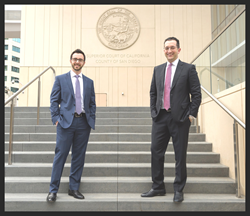 San Diego, California (PRWEB) January 24, 2018
The Law Office of David P. Shapiro, an exclusive criminal defense firm in San Diego, California, has announced that Stefano L. Molea has become a partner. The firm was founded by David P. Shapiro in 2007.
Mr. Molea has joined as a partner to support the firm's growth and continued goal of consistently providing its clients with first class criminal defense representation.
Prior to joining the Law Office of David P. Shapiro, Mr. Molea was an associate at another reputable San Diego firm, having gained broad experience defending a variety of misdemeanor and felony matters, while achieving excellent results for hundreds of his clients.
"I am ecstatic to have joined the Law Office of David P. Shapiro as a partner," says Stefano. "I share in David's vision not only of providing outstanding legal representation for our clients, but also of unsurpassed customer service. I am committed to the firm's motto of 'helping good people regain control of their future when charged with a crime', and I look forward to serving the San Diego community in this new and dynamic environment."
Mr. Shapiro and Mr. Molea have been friends for nearly a decade, and they know how to communicate effectively and efficiently to the benefit of the clients they represent. David, now Managing Partner of the firm, said, "It is with great pleasure and pride that I welcome Stefano to the firm as my partner. I cannot think of a better lawyer and person to be by my side for this journey as we continue as one of San Diego's most well- respected criminal defense law firms."
David and Stefano share more than just a friendship and partnership. They are both on the Board of Directors of the Criminal Defense Bar Association of San Diego. During their years of practice, they have gained the respect of their peers and their clients. Both have been named Best of the Bar, Super Lawyers Rising Stars, and Top 40 Under 40 in criminal defense, and they have accumulated approximately 130 combined 5/5 stars client reviews on Avvo, the attorney rating website.