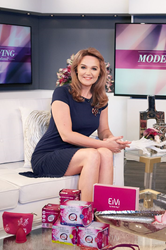 It's all about giving women and teens more choices", says Vilmante. "We are here for women who—for lack of a better word—are ready to detox their period.
ORLAND PARK, Ill. (PRWEB) January 17, 2018
As Glamour magazine has put it, 2017 was a "good year to be a woman with period" and we can't agree more. In one year, much has been done to de-stigmatize periods.
Legislation passed in California and Illinois requiring schools to stock feminine hygiene products. Attorney Jennifer Weiss-Wolf became the author of the first major book titled Periods Gone Public to address equitable menstrual policy and, with the help of Cosmopolitan, start a campaign to end tampon tax.
Celebrities such as Janelle Monáe, Amy Schumer, Jennifer Lawrence, and Katy Perry spoke publicly and candidly about their own periods helping destigmatize and normalize a bodily function experienced by roughly half of the world's population at some point of their lives.
GENIAL DAY® commends the efforts of women around the world who fight for period equity and we are proud to do our part in the movement. With period destigmatization being the first step, we're calling on all women influencers to push forward and shift our focus to menstrual health.
2017 was a year of a stigma-free period; let's push for 2018 being a year of woman's choice to have a healthier period.
Currently, there's no mandate requiring manufacturers of tampons or maxi pads to disclose all ingredients in their products. Anyone can read a label and find out what's in their cereal, but it's still not the case with menstrual hygiene products.
There's a reasonable suspicion that conventional pads may contain questionable, unpleasant, and outright toxic ingredients, such as dioxin, formaldehyde, acetone, and heavy metals.
With more and more people paying attention to the quality and sources of their food, we believe that women should be more careful when it comes to menstrual hygiene products.
Here's what GENIAL DAY® is doing to help women have easier, less stressful, and healthier periods.
"I have suffered from irritation, rash, and painful periods for years", admits Vilmante Markeviciene, the founder and product developer of GENIAL DAY®. "I've traveled the world—from the United Kingdom to Japan—searching for answers. Unable to find a perfect sanitary napkin, I've started researching fabrics, got acquainted with the latest innovations, and assembled a team of manufacturing experts to create a better menstrual pad."
Vilmante's persistence has paid off. She was able to patent her innovation—a menstrual pad with an anion strip.
Unlike a conventional sanitary napkin, GENIAL DAY® maxi pads and pantiliners are skin-friendly, air permeable, and toxin-free.
The new generation organic pads were an instant hit in Europe. GENIAL DAY® products (distributed under the name of GENTLE DAY®) are available in 15 European countries and loved by over 1 million women.
GENIAL DAY® has entered the U.S. market just a year ago and their products can be found in over 500 health food food stores, including "Fruitful Yield", "Natural Grocers", "Nature's Market", "Sprouts", and, of course, at GenialDay.com.
"It's all about giving women and teens more choices", says Vilmante. "Personally, I'm not a huge fan of tampons. Many women who have given birth vaginally, suffer from endometriosis or simply have heavier flow, aren't either. We are here for them and for other women who—for lack of a better word—are ready to detox her period."
The founder of GENIAL DAY® points out that menstrual pads have come a long way, therefore, women who may have written off maxi pads in the past may want to take another look.
"It's not like modern menstrual pads are made of wood pulp as it was the case in the 1800s", laughs Vilmante. "My teenage daughter loves them… and that says a lot."
She points out that GENIAL DAY® pads and pantiliners are made using the highest quality materials and have been tested and certified by numerous international entities, including Oeko-Tex®100, Made For Health, Leaping Bunny, Vegetarian Society, to name a few.
5 Reasons Why Every Woman Should Try GENIAL DAY®
1. GENIAL DAY® feminine hygiene products are free of toxic chemicals and reproductive system disruptors.
2. Anion strip with silver and Tourmaline neutralizes unpleasant odor, prevents harmful bacterial multiplication, and promotes general wellbeing.
3. Highest-quality super-absorbent polymer made in Japan absorbs several hundred times its own weight and is biodegradable.
4. Ventilated base film allows your skin to breath. As a result, your skin is not exposed to excessive warmth, it won't sweat, and you won't develop a rash.
5. Non-toxic glue. GENIAL DAY® uses food-grade glue that contains no toxic chemicals; they are safe, won't cause allergies, and are environmentally friendly.
ABOUT GENIAL DAY®
GENIAL DAY® is a family-owned company founded by a woman and a mother, who was concerned about her own health and health of her teenage daughter. The Illinois-based company is a fast-growing developer and importer of functional premium quality feminine hygiene products. Their patented products are toxin-free and include unique sanitary napkins, menstrual cups, and an intimate apparel line, EiVi®. GENIAL DAY® products are certified by multiple international entities. The company was a finalist for the 2017 Supply Side CPG Editor's Choice Award for Innovation and Market Impact.