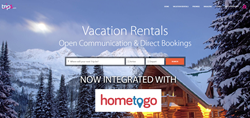 Tripz.com and HomeToGo coming together allows more travelers to discover vacation rental options without paying all the service fees many other sites add to rentals.
Scottsdale, AZ (PRWEB) January 17, 2018
HomeToGo is now connected to Tripz.com commission and service fee free platform! This partnership makes vacation rental homes listed on Tripz.com searchable on HomeToGo's platform. This now means more travelers are exposed to a better vacation home rental experience without all the fees on Tripz.com.
Tripz.com collaborating with HomeToGos' vacation home rental platform expands the reach for Tripz.com vacation rentals. The partnership gives property owners who list on Tripz.com added reach from not just the Tripz.com website but that of travelers searching on HomeToGo platform as well.
This integration with Hometogo.com is a perfect balance for both companies. HomeToGo is the largest search engine for vacation rentals listed online, with over 11 million properties available globally from over 250 vacation rental providers. Tripz.com will add their 35,000 vacation rentals across the US to HomeToGos' already impressive inventory. The partnerships will allow travelers more inventory and options to make the best decision for their unique vacation rental needs.
HomeToGo is different than other search engines, as it allows you to compare prices of vacation rental homes all over the world. And, once a traveler decides on a perfect vacation rental, HomeToGo will then connect travelers to the direct source of the vacation home rental. These direct connections for travelers helps them save on the perfect accommodation.
This integration will provide more vacation rentals on HomeToGo where travelers can search properties with true open communication. One of the main factors of success in the eyes of home owners and property managers is exposure. The HomeToGo integration is another measure Tripz.com is taking to ensure increased exposure for their vacation home rentals. Due to Tripz.com's unique platform and integrations with other meta search sites like HomeToGo and Tripping.com, it is anticipated there will be about 200,000 vacation rentals listed on Tripz.com by the end of 2018.
Tripz.com's platform provides open communication between the property owner and travelers as well as truly direct bookings without all the fees to create the best vacation experience possible. Integrations with the top meta search sites ensures more travelers will be educated to the fact they do not need to pay the service fees charged by many of the other completive sites. Tripz.com stands out among the vacation rental communities by providing truly direct accommodations at direct rates with no middle man fees. Travelers and property owners alike need to check out Tripz.com as it's certainly a site to have bookmarked when looking for a vacation rental.