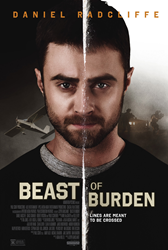 Mary Aloe Announces Daniel Radcliffe Is a Drug Smuggler on His Final Mission in BEAST OF BURDEN
BEVERLY HILLS, Calif. (PRWEB) January 24, 2018
Mary Aloe, producer, and Aloe Entertainment, along with WYSJ Media, Paul Schiff Productions, MGMT Entertainment and Coastal Film Studios, along with Voltage Pictures, are pleased to announce the upcoming theatrical and VOD release of eOne's / Momentum Pictures BEAST OF BURDEN, starring Daniel Radcliffe, Grace Gummer and Pablo Schreiber.
Pilot Sean Haggerty (Daniel Radcliffe) must deliver cocaine across the US-Mexico border for his final run as a drug smuggler. Alone in a small plane, he is faced with the burden of choosing between his allegiance to the Cartel, his deal with the Drug Enforcement Administration and saving his increasingly tense relationship with his wife, eagerly awaiting his return.
Directed by Jesper Ganslandt and written by Adam Hoelzel, this ticking-clock action thriller is out in theaters and available on VOD and Digital HD on its U.S. release - Feb. 23, 2018.
Producer Mary Aloe stated, "we all know Daniel Radcliffe is an incredible actor; the audience is in for a real treat as he takes this performance, elevates our action thriller on a whole other level and is riveting in every scene."
About Mary Aloe and Aloe Entertainment:
Aloe Entertainment is one of Los Angeles' most prolific independent production companies. The Los Angeles based feature film/television company was created in 1999 by Mary Aloe. Mary Aloe and Aloe Entertainment produces and finances individual pictures and slates of movies. Aloe Entertainment specializes in developing/producing independent features, television series, and network and cable event movies. Mary Aloe and Aloe Entertainment specialize in obtaining 100% financing for features by raising private equity; working with hedge funds, gap financing, top tier foreign sales companies and securing domestic distribution. As well, Mary Aloe's vast knowledge of P and A financing was recognized when she was brought in to run a 50 million dollar P and A fund. Producer Mary Aloe and Aloe Entertainment, along with her development team, have produced a record ten features in the last three and half years alone including Weinstein's "Wild Oats" starring Shirley MacLaine and Jessica Lange, Sony's "55 Steps" starring Hilary Swank and Helena Bonham Carter that made its recent screen premier in the competition at the Toronto Film Festival, Screen Media's "Mothers and Daughters" starring Susan Sarandon and Sharon Stone, "Mara" with the Paranormal Activity team starring Olga Kurylenko, "Dear Dictator" starring Sir Michael Caine, and the Sundance Film selected film with Screen Media "Ten Thousand Saints" starring Ethan Hawke, Hailee Steinfeld and Emil Hirsch. In 2018, Mary Aloe and Aloe Entertainment are co-producing with Overbrook Entertainment the prestigious historical action drama "1921" in Kentucky. In addition, Mary Aloe and the Aloe Entertainment team will be producing "Just Heloise," starring in March 2018 in Paris and Bucharest.
Contact:
Jay Willick
Director of Development
Aloe Entertainment
info(at)aloeentertainment(dot)com