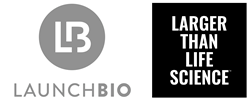 DURHAM, N.C. (PRWEB) January 17, 2018
LaunchBio, a national nonprofit dedicated to connecting entrepreneurs with knowledge, capital and talent across the nation's leading life science hubs, will focus on the future of science – both serious and light-hearted – during its next Larger Than Life Science networking event. The event, with the theme of "New Frontiers," will be held February 1 from 4-7 p.m. at The Chesterfield in downtown Durham, and is open to anyone interested in building a strong support network for North Carolina's life science and healthcare innovators.
Highlights of this month's popular gathering include:

A fireside chat with Johannes Fruehauf, the Cambridge, MA-based co-founder of BioLabs and LabCentral. Dr. Fruehauf will discuss how solving the problems he faced as a research scientist and entrepreneur led to the creation of an innovative shared space for life science startups that builds community, reduces cost, and speeds commercialization
A panel on genome editing and human health, led by Kevin Davies, co-founder of The CRISPR Journal, featuring leaders from North Carolina biotech companies developing genome editing platforms for applications in cancer immunotherapy, antibiotic resistance, gene therapy and food
A tasting for the adventurous, The Future of Food showcases samples and science from food entrepreneurs who are thinking about new ways of feeding the planet
A workshop on working with the FDA for medical devices and healthcare IT: think wearables, continuous monitoring devices, mobile medical apps and connected devices. Washington, DC-based patent attorney Seth Mailhot of the firm Michael Best offers the latest thinking from regulators, how to plan a pre-market strategy, and what to do about cybersecurity. A panel of entrepreneurs shares stories of navigating the FDA approval process
A virtual reality demo with Jason Cooper and Jason McGuigan from VR/AR studio, Horizon Productions, offers the chance to experience VR environments first-hand and learn how researchers and clinicians are putting this transformative technology to work
Information about all February 1 programs and registration for the FDA workshop is at https://www.launchbio.org/durham . This month's featured beer sponsor is Bull City Burger and Brewery. All Larger Than Life Science events are free and open to the public.
Larger Than Life Science is sponsored by Hutchison PLLC; Michael Best; CSC Leasing, Inc.; Duke Innovation & Entrepreneurship; and HPG. Burroughs Wellcome Fund is a grantor for the FDA workshop.
Event partners include American Underground, BioLabs North Carolina, CED, North Carolina Center of Innovation Network (COIN) , Digital Health Impact + Transformation (DHIT), MEDIC-NC, the North Carolina Biotechnology Center, the NC Biosciences Organization (NCBIO), Research Triangle Regional Partnership, and SBTDC.
About LaunchBio, Inc.
LaunchBio is a nonprofit organization that identifies, counsels, and supports high-growth, high-impact life science and biotechnology companies. Its mission is to build an ecosystem of innovation for the benefit of human health and well-being. http://www.launchbio.org