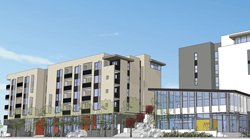 "Bluewater will be a positive addition to the Grantville community, providing quality, affordable housing in a prime location in San Diego." John Wurster, Affirmed Housing.
SAN DIEGO (PRWEB) January 17, 2018
Affirmed Housing breaks ground on Bluewater; 80 new affordable homes for families earning 50%-60% AMI. Bluewater will offer 32 one, 24 two and 24 three-bedroom apartment homes. Features will include energy star appliances, indoor and outdoor community space, central heating & air conditioning and solar Photovoltaic panels to offset resident utilities.
The building will feature elevated common area amenities and outdoor open space, a community kitchen, multi-purpose space, and gathering areas oriented to enliven the space with natural sunlight. Resident apartments will average 817 square feet and feature modern, durable finishes with high energy-efficient standards to keep utility costs low. Designed by Studio E architects to embrace walkability and connectivity, this new community will provide much needed high-quality, affordable living in a San Diego "choice" community with a host of urban amenities and access to high-frequency, public transportation.
"At a time when the housing crises is at a pinnacle, affordable housing is in demand now more than ever. This new development will offer quality, affordable homes to San Diego County residents in a prime location," states James Silverwood, President and CEO of Affirmed.
Headquartered in San Diego, Affirmed Housing is dedicated to improving and sustaining the viability of California through the development of affordable housing. The company aims at enhancing communities and our environment by building professionally-managed, high-quality, green, multifamily housing. Areas of expertise include site selection, engineering, architecture, construction, relocation, and marketing. Affirmed also has extensive knowledge in public finance, low-income housing tax credits, and tax-exempt bond financing. For more information, visit http://www.affirmedhousing.com