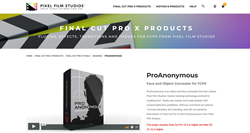 ALISO VIEJO, Calif. (PRWEB) January 16, 2018
ProAnonymous is an object and face concealer tool that utilizes Pixel Film Studios' motion tracking technology and built-in masking tool. Easily use custom and mask presets with customizable blur, pixellation, defocus, and black-out options. Conceal identities, blur branding, and edit out sensitive information in Final Cut Pro X with ProAnonymous, from Pixel Film Studios.
ProAnonymous is an intuitive set of tools that allow users to easily hide faces and protect identities with blur, pixellation, defocus, and black-out presets. Customize the degree of anonymity by adjusting the sliders found under style controls. Blur faces, blot out branding, and even hide license plates with ProAnonymous.
Pick and choose from 3 different mask types including circle, square, and even a custom preset. With shape presets, users can find radius, dimension, and offset sliders under mask controls. For more complex subjects, editors can take advantage of custom presets and utilize the built-in masking tool to create a unique mask shape to fit the scene.
ProAnonymous uses Pixel Film Studio's motion tracking technology. This feature gives users the ability to achieve fast and accurate tracks without having to set a single keyframe. Track forward, track backwards, and track multiple objects in a single scene. Save time editing and increase your work flow with this incredible tool.
This plugin features a built-in masking tool that allows users to create a custom mask for the subjects within the scene. To use the masking tool, start by clicking around the subject and completing the mask. Double-click the line to add a point. Double-click a point to change its curvature. Command + double-click on a point to delete it. With these simple controls, user can refine their cut-out selection.
Established in 2006, Aliso Viejo, California-based Pixel Film Studios is an innovative developer of visual effects tools for the post-production and broadcast community. Their products are integrated with popular non-linear editing and compositing products from Apple FCPX. Apple, the Apple logo, Mac OS X, and Macintosh are registered trademarks of Apple Inc. in the U.S. and/or other countries. All other trademarks and trade names are the property of their respective owners.