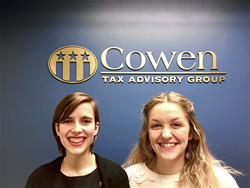 WEST HARTFORD, Conn. (PRWEB) January 22, 2018
Cowen Tax Advisory Group, a West Hartford financial advice and retirement planning company, is pleased to announce two new additions to its administrative team. Young, bright and capable, Rebecca LaVoie, 24, and Sara McKinney, 22, are bringing fresh skills and digital fluency to the Cowen office. Splitting the duties of what was formerly a single Administrative Marketing Assistant position, Rebecca and Sara will help Cowen take on the challenge of developing a new, personalized multimedia customer service approach to meet the needs of financial clients in the digital age.
In addition to being one of the first points of contact for Cowen's clients on the phone and in the office, Rebecca will also manage Cowen's popular client appreciation events, as well as its seminars and social media pages. A Connecticut native and alumna of Suffolk University, she joins the Cowen Tax Advisory team with two years of marketing experience from Windsor Marketing Group. Asked about her goals for the future, Rebecca expressed excitement for upcoming changes in the company's communications systems: "I am privileged to help communicate and market Cowen Tax Advisory Group as a resource for people's financial well-being. I hope to aid in strengthening the communication channels with current and prospective clients; enhancing relationships between Cowen Tax Advisory Group, their clients, and the public."
Sara, a recent graduate of Kalamazoo College, located in Kalamazoo, Michigan, will assume responsibility for maintaining the company's electronic records, as well as its print and digital correspondence. "I'm fortunate enough to be joining the Cowen team at a very exciting time. Getting to know our clients as people and providing individualized customer service is at the heart of what Cowen Tax Advisory Group does. Advisors who care about your personal preferences—whether it's your retirement plans or your investment portfolio — on a human-level is one of the major benefits of working with a small, family-owned financial advice company instead of a large firm. Expanding and enriching the ways we communicate with clients is all part of that. I think our clients are going to love what we have planned."
About Cowen Tax Advisory Group
Cowen Tax Advisory Group is a family-owned financial advice company that has provided northern and central Connecticut with investment management, retirement planning, and tax preparation since 1978. The company's office is located at 433 S. Main St., Suite 310, West Hartford, CT. For more information, please call (860) 676-1100 or visit the website at http://www.cowentaxgroup.com.