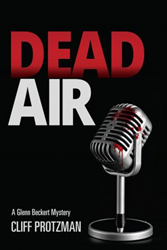 The characters drive the story
BOARDMAN, Ohio (PRWEB) January 18, 2018
Within the pages of Cliff Protzman's new book Dead Air, readers will find layers of deception stemming from a murdered radio host, shot in the head while on the air. Beck quickly becomes embroiled in the investigation, spurred on by the need to see his old friend's murderer put to justice—but the list of potential suspects grows by the day.
He can't help but pull at the thread, unraveling a network of money laundering that leads to the financial and political powers of his beloved city of Pittsburgh. When he thinks he couldn't dive any deeper into the murky waters of motive, he receives a warning that he is only skimming the top. Soon he is moving through an unfamiliar world, facing his inner convictions, challenging the gray areas of his ethical principles. He could betray those trusting him, or he could take matters into his own hands. Either way, his life is in jeopardy.
"The characters drive the story," states the author. "They are human, making mistakes, following the wrong leads, trying to solve the murder. Beck must put his past behind him to confront the changing world around him."
About the Author
Cliff Protzman was a winner in the 2015 writing contest Unfinished Chapters. After attending the University of Pittsburgh, he began a thirty-year career in banking and finance. Dead Air is his debut novel and showcases the natural writing talent that pushed the dramatic career change. Cliff is a member of the Mystery Writers of America and Pennwriters. For more information about the author, visit http://www.cliffprotzman.com.