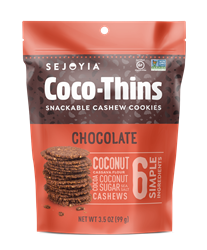 Each ingredient in Sejoyia Coco-Thins was selected to make our better-for-you cookies taste great and add nutritional value to every snackable bite.
LOUISVILLE, Colo. (PRWEB) January 18, 2018
Sejoyia Foods, the creator of delicious and nutritious sweet snacks that fuel daily adventures, today announced its launch of the category-revolutionizing Coco-Thins. Coco-Thins are delightfully light, crispy cookies made from seven or fewer real ingredients consumers want to eat more of, like coconut, cashews and cassava, and without ingredients they want to avoid, like cane sugar, wheat and soy. The result is a new kind of deliciously-snackable cookie with added nutrition in every bite. Plus, like Sejoyia's popular Coco-Roons, Coco-Thins are naturally free of gluten, and dairy, and fit perfectly into a vegan, Kosher or Paleo diet.
Traditionally, cookies could be found in four out of five U.S. households; however, for the first time in generations, this is starting to decline. Millennials have the lowest household penetration of cookies because they can't find an option that meets their desire for quality ingredients and convenience. Simply replacing conventional cookie ingredients with organic versions of the same thing is not enough to keep the cookie aisle a destination. Sejoyia is bringing real innovation to the cookie aisle in a way that will meet consumer demands for snacks made from real, recognizable ingredients. With all the satisfaction of a crispy, crunchy, flavorFULL cookie and without the sugar hangover, guilt or immediate desire to hit the gym to make up for it, Coco-Thins are cookies 2.0. Coco-Thins will drive incremental cookie category growth for retailers by giving deserving consumers something better.*
"We believe that by never compromising on taste or our unyielding commitment to the best, real ingredients out there, we can create deliciously delectable snacks that allow consumers to feel good about indulging in something they love," said Sequoia Cheney, founder of Sejoyia. "Each ingredient in Sejoyia Coco-Thins was selected to make our better-for-you cookies taste great and add nutritional value to every snackable bite. We're so proud of what's in our Coco-Thins, we've listed it right on the front of the package!"
Sejoyia Coco-Thins (MSRP 4.49-4.99 - 3.5oz package) will launch in four favorite cookie flavors to satisfy any sweet tooth, including Chocolate, Vanilla, Salted Caramel and Lemon Zest. Compared to conventional cookie offerings, thins and other better-for-you snacks, the wafer-thin, crispy texture and real-food ingredients make Coco-Thins a perfectly light breakfast, midday treat, or on-the-go snack. Sweetened with coconuts and made from the holy grail of grain-free cooking, cassava, a root vegetable (think yams or plantains) popular in Latin America, Africa and Asia, Coco-Thins also have less sugar than typical cookies.
Sejoyia Coco-Thins will hit shelves across the U.S. in mainstream supermarkets and natural food stores in March 2018. Coco-Thins have a variety of merchandising opportunities. In some stores, Coco-Thins will be found among the traditional cookie aisle, and in others Coco-Thins will be part of a "Healthy Snacking" set. The Sejoyia team is also partnering with key retailers to offer shippers to merchandise product off-shelf. Sejoyia will build awareness, trial and sales of Coco-Thins through a robust and integrated marketing campaign that includes traditional shopper marketing, influencer seeding, direct consumer sampling and digital marketing. Visit the Sejoyia store locator starting mid-March to find the most up-to-date nearby stores.
ABOUT SEJOYIA FOODS
Sejoyia Foods, located at the base of the Rocky Mountains, creates delicious and nutritious sweet snacks that fuel daily adventures and nourish the mind, body and soul. Sejoyia means "See Joy in All", in the foods we eat, in the things we do, and in the world around us. We are a team passionate about food and making delicious and nourishing snacks and treats. We are a company that celebrates the joy of pure ingredients. Every ingredient we use delivers an important benefit and is sourced in a way that respects the Earth and the communities that grow them. We enthusiastically devote our dollars and time to bringing healthy food to people in our community who need it, especially through our partnership with Community Food Share and team member volunteer days. Join our #SeeTheJoy movement by connecting with us online at sejoyia.com, and on Facebook, Instagram and Twitter.
###
*Sources: Mintel, Experian, Specialty Food News, Datamonitor Sejoyia Consumer Research