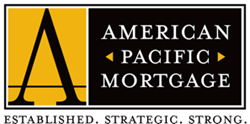 "We are extremely proud to have been named to Mortgage Executive Magazine's 50 Best Companies to Work For list, but we are even prouder of the fact that we have a culture that takes care of its people and their families." - APMC CEO, Bill Lowman
ROSEVILLE, Calif. (PRWEB) January 19, 2018
American Pacific Mortgage Corporation (APMC), a top-15 independent mortgage bank, has been voted No. 4 on Mortgage Executive Magazine's 50 Best Companies to Work For.
The recognition is largely due to APMC's culture. The company is 100 percent focused on doing whatever it takes to make its branch managers and originators look good. APMC is widely known for delivering experiences that matter in creating the opportunity of homeownership. This is accomplished by providing its producers the necessary culture, resources, tools/products, support, encouragement, efficiency and accuracy. As a result, its originators are able to provide the best possible loan experiences to consumers.
A company built and led by originators, APMC has created a culture that is nimble and laser focused on providing the highest level of service and support to its customers and valued producers. This culture was initiated by APMC Chairman Kurt Reisig more than 20 years ago, and continues to be carried out under the leadership of CEO, Bill Lowman.
"We are extremely proud to have been named to Mortgage Executive Magazine's 50 Best Companies to Work For list, but we are even prouder of the fact that we have a culture that takes care of its people and their families," Lowman said. "Having more than 2,000 people who work for us means we have that many families who rely on us, and we take pride in delivering for them as much as we do for our originators, real estate partners and customers."
APMC is built on its ability to anticipate changes in the industry and to offer solutions ahead of the curve. This forward-thinking approach gives its loan officers a key competitive advantage in the marketplace and the company's strong, steady growth is a testament to the value APMC offers.
A main mission of APMC is to make it easier for its originators to grow production and interact with their customers in the mobile environments that they demand. One example is AP Connect, a state-of-the-art lead management platform, which supports APMC originators and their real estate partners in the conversion and nurturing of Internet leads. Another example is the APM Edge, a fully integrated suite of digital products. The APM Edge offers centralized co-marketing to the borrower before, during and after the loan transaction closes. Users can take advantage of a mobilized loan process – from loan application, to uploading documents, to tracking and fulfilling loan conditions. APM Edge also features Encompass integration to simplify contact management. And lastly, APM Edge allows originators to collect and showcase client testimonials on their preferred social media site. APM provides the digital tools that allow loan originators and their real estate partners to lead the way by building their network, growing their business and staying relevant in today's constantly shifting marketplace.
Mortgage Executive Magazine compiles the list of 50 Best Companies to Work For based on an extensive survey of thousands of loan officers across the country. Things such as company culture, loan processing, underwriting, compensation, management, marketing and technology are taken into consideration.
In addition to being named No. 4 on this list, APMC has received a variety of other recognitions in recent years, including being ranked a Top Mortgage Lender by Scotsman Guide, Top Mortgage Employer by National Mortgage Professional Magazine and Top 25 Mortgage Company in America by Mortgage Executive Magazine.
For more information about APMC, visit apmortgage.com.
About American Pacific Mortgage Corporation
American Pacific Mortgage Corporation (APM) is a U.S. residential mortgage company headquartered in Roseville, Calif. The company is licensed to lend in 20 states throughout the U.S. The company includes more than 800 loan advisors and branch managers in over 170 branch offices. Established in 1996, APM is built and led by a senior leadership group with decades of experience in mortgage lending. APM is 100 percent focused on making its branch managers and originators look good by providing the culture and resources to deliver home ownership in America. For more information, visit apmortgage.com.