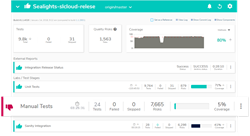 With Manual Testing Code Coverage SeaLights takes a tedious and high-cost task from which no R&D or QA manager could measure ROI or understand team efficiency and, transforms it into a easy to control, ROI oriented task by focusing on improving the effectiveness of your team and manual tests
TEL-AVIV, Israel (PRWEB) January 18, 2018
Tel-Aviv, Israel: Today SeaLights, a software quality analytics company enabling companies to deliver high-quality software quickly, announced the public launch of Manual Testing Code Coverage. After only a year of public availability SeaLights boasts a host of tier 1 companies from all industries. With Manual Testing Code Coverage they make software quality and release speed attainable for any company.
With 48% of technical managers citing too much reliance on manual testing as one of the top technical challenges they experience in developing applications according to the latest World Quality Report, Amir Banet, SeaLights Head of Product and former Senior Product Manager for HPE's Functional Testing business, set the goal of not only alleviating this challenge but, transforming it into a competitive advantage. "With Manual Testing Code Coverage SeaLights takes a tedious and high-cost task from which no R&D or QA manager could measure ROI or understand team efficiency and, transforms it into a easy to control, ROI oriented task by focusing on improving the effectiveness of your team and manual tests".
SeaLights Manual Testing Code Coverage will be available to existing and new customers as part of the main software quality analytics suite. Enhancing the platforms capabilities to identify high risk code areas and software quality analytics to levels previously unattainable. Both Manual Testing Code Coverage and the main SeaLights Software Quality Analytics suite integrate with any framework and any testing tool, allowing managers to maintain their team's testing environments while gaining quality visibility.
About SeaLights:
SeaLights enables R&D and QA teams to release software faster, with confidence, using software quality analytics.
Our mission is to bring together QA teams and R&D engineers and managers in a single cohesive, actionable platform that provides visibility into each build's quality and provide actionable insights on how to measure and improve the application while increasing release speed. For more information please visit https://www.sealights.io/
Contact Details:
Avishai Shafir | VP Marketing
Email: avishai.shafir(at)sealights.io
Mobile: +972.(0)52.315.9993