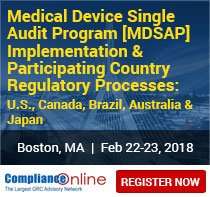 Palo Alto, CA, USA (PRWEB) January 17, 2018
Led by industry expert Robert J. Russell, ComplianceOnline's popular seminar on Medical Device Single Audit Program [MDSAP] comes to Boston, MA in 2018. This two-day seminar is focused on understanding the Medical Device Single Audit Program, the scope of the program, how to apply, the Authorized Organizations, the rating system developed and what you can expect when signing onto the program.
The seminar will discuss how such audits are organized, what to expect during a MDSAP audit, how does this differ from a typical certified body audit, along with document movement and timeline expectations in receiving the facility's certificate. The key Regulatory Requirements for Medical Devices will also be covered for the participating MDSAP Countries of: U.S., Canada, Brazil, Australia and Japan.
This in-person training will assist regulatory affairs, QA/QC, product development, contract research organizations, business management, site managers, senior and executive management, contractors and subcontractors, distributors and consultants in the Medical Device industry.
Medical Device Single Audit Program MDSAP Implementation & Participating Country Regulatory Processes: U.S., Canada, Brazil, Australia and Japan
Dates:
Thursday, February 22, 2018 (8.30 AM- 4.30 PM) and Friday, February 22, 2018 (8.30 AM- 4.30 PM)
Venue:
Courtyard Boston Cambridge
777 Memorial Drive,
Cambridge, MA, 02139, USA
Registration Cost: $1,699.00 per registration
Early bird discounts: For discounts on early registrations, please click here.
Register by phone: Please call our customer service specialists at +1-888-717-2436 or email to customercare(at)complianceonline(dot)com
About ComplianceOnline
ComplianceOnline is a leading provider of regulatory compliance trainings for companies and professionals in regulated industries. ComplianceOnline has successfully trained over 55,000 professionals from 15,000 companies to comply with the requirements of regulatory agencies. ComplianceOnline is headquartered in Palo Alto, California and can be reached at http://www.complianceonline.com. ComplianceOnline is a MetricStream portal. MetricStream (http://www.metricstream.com) is a market leader in Enterprise-wide Governance, Risk, Compliance (GRC) and Quality Management Solutions for global corporations.
For more information please contact:
A Reuben Bernard
Associate Director - ComplianceOnline
2600 E Bayshore Rd
Palo Alto CA USA 94303
Phone - +1-650-238-9656 | +1-888-717-2436
Fax - 650-362-2367
Mail: reuben(at)complianceonline(dot)com
Website: http://www.complianceonline.com