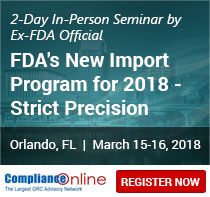 Seminar Instructor Casper Uldriks is an "Ex-FDA Official" who has spent 32 years in FDA and his engagements focus on advertising and promotion, recalls, corrections and removals and enforcement. He currently trains FDA personnel and counsels clients on wide range of topics.
Palo Alto, CA, USA (PRWEB) January 18, 2018
ComplianceOnline, the leading governance, risk and compliance advisory network, today announced a seminar on FDA's New Import Program for 2018 - Strict Precision. The two-day seminar led by former FDA official Casper Uldriks who has spent 32 years in FDA and his engagements focus on FDA inspections; import operations; advertising and promotion; corrective and preventive actions.
Course "FDA's New Import Program for 2018 - Strict Precision" has been pre-approved by RAPS as eligible for up to 12 credits towards a participant's RAC recertification upon full completion.
During the course Mr. Uldriks will discuss FDA's and the US Customs Border Patrol's regulatory criteria, inter-agency agreements and intra-agency procedures and ways to improve import and export business.
For more information or to register for the seminar, please click here.
During this two-day interactive seminar, Mr. Uldriks will focus on the FDA import program and process and will discuss internal procedures the FDA follows for imported products. He will discuss how U.S. Customs and FDA laws intersect and how to manage foreign suppliers that make the products. Attendees will learn how and with whom to negotiate at the FDA and how one can mitigate the cost and risk of detention. This seminar will provide attendees practical ways to improve their import and export business.
The seminar will be beneficial for business planning executives, regulatory managers, venture capitalists, business acquisition executives, owners of new or developing import/export firms, international trade managers, import brokers, investors, logistics managers and sales managers.
Registration Cost: $1,299.00 per registration
Early bird discounts: For discounts on early registrations, please click here.
Register by phone: Please call our customer service specialists at +1-888-717-2436 or email to customercare(at)complianceonline(dot)com
For more information on ComplianceOnline or to browse through our trainings, please visit our website.
About ComplianceOnline
ComplianceOnline is a leading provider of regulatory compliance trainings for companies and professionals in regulated industries. ComplianceOnline has successfully trained over 55,000 professionals from 15,000 companies to comply with the requirements of regulatory agencies. ComplianceOnline is headquartered in Palo Alto, California and can be reached at http://www.complianceonline.com. ComplianceOnline is a MetricStream portal. MetricStream (http://www.metricstream.com) is a market leader in Enterprise-wide Governance, Risk, Compliance (GRC) and Quality Management Solutions for global corporations.
For more information please contact:
A Reuben Bernard
Associate Director - ComplianceOnline
2600 E Bayshore Rd
Palo Alto CA USA 94303
Phone - +1-650-238-9656 | +1-888-717-2436
Fax - 650-362-2367
Mail: reuben(at)complianceonline(dot)com
Website: http://www.complianceonline.com