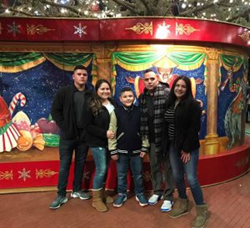 The Martel family is facing a hard road ahead after losing Tim to cancer, and our firm is committed to standing beside them and offering support during this difficult time
Bedford, TX (PRWEB) January 19, 2018
Maria Golseth, founder and principal agent of the Golseth Agency, is releasing details on a charity drive the firm is launching to provide for the family of Tim Martel. Martel, a local deputy, lost a long a grueling fight with Stage 4 appendiceal cancer, and this charity drive will help provide comfort to his grieving family.
"The Martel family is facing a hard road ahead after losing Tim to cancer, and our firm is committed to standing beside them and offering support during this difficult time," said Golseth.
Golseth and her team want the entire community to be part of the charity effort, and so will be issuing donations to the Martel family based on the number of referrals sent in to the firm to receive a no cost quote over the next few months. Each referral will produce a cash donation to the family, and visitors need not make a purchase.
For more information on how to be part of the Martel family charity drive, readers are invited to visit this page: http://thegolsethagency.com/rewards/.
About The Golseth Agency
The Golseth Agency's mission as a team is to provide the best insurance and financial services in the industry. Their number one job is to protect the current assets clients have worked so hard for, and to help them invest so they can retire with the right amount of money. Golseth's success is measured by customer satisfaction and the value they bring. The capable agents at The Golseth Agency can be easily reached at 817-540-1133 and 972-874-8200.