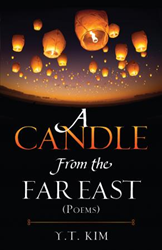 The disruptive innovations that rapidly change our lives are threatening our society
NEW YORK (PRWEB) January 19, 2018
Y.T. Kim's new book, A Candle From the Far East , will entrance readers with his alternative perspectives on humanity, wellness/health, travel, and the world. Touching on universal themes, his feelings, thoughts, and suggestions come from fascinating depth and carry worldly perception.
"Individually and jointly, we feel, think, and make an action against the happenings and events in daily lives," states Y.T. Kim. "The disruptive innovations that rapidly change our lives are threatening our society. Artificial Intelligence, deep learning, robotics are replacing humans in the fourth Industrial Revolution. We had better improve our ways to adapt to the changes. It would be a great help and pleasure if we could share our thoughts globally to help humans create values through thinking together."
About the Author
Y.T. Kim was born in Tokyo, Japan, and moved to Korea a year before WWII. A graduate of Seoul National University, he worked for LG group companies for forty years. His previous work includes A Winning Strategy in the Information Era, Root of Koreans (Hwan-Dan's Descendants), and Enthusiastic Management. For more information about the author and his work, contact ytkimfree@gmail.com.