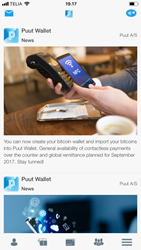 The world's First Leather Wallet Replacement Solution
Copenhagen, Denmark (PRWEB) January 19, 2018
Puut A/S, announced today that it will release Puut Wallet - Bitcoin Edition on Thursday, February 1, 2018, to enhance the overall experience for users across major platforms.
"We have spent the past 6 months working on various improvements of Puut Wallet mobile and web applications", says Mark Arthur, Founder and CEO of Puut A/S. "Rather than releasing incremental updates and bug fixes, we wanted to bring a simplified interface and a new set of purposed built features to the ever growing number of Puut Wallet users worldwide", concluded Mr. Arthur.
The upcoming update brings several improvements, including:

Simplified and enhanced UI design
Chat made simple and secure
Support for multiple bitcoin wallets
Ability to add existing loyalty cards
City restrictions removed on social groups
Shopping Wall becomes Marketplace
Major bug fixes 
Revamped UI:
A completely upgraded home screen that is a crystal clear as to what actions users may take, making it simpler to navigate from one part of the wallet to another.
Chat:
In this edition chatting is made easier, secure and hassle free whether you are sending a one off message to a friend or maintaining a group chatroom.
Support for multiple bitcoin wallets:
Paying with bitcoin is made user-friendly and seamless. This new release allows users to create multiple bitcoin wallets, that can be used to receive and send bitcoin as well as paying bills without the complexity inherent to typing or scanning a full bitcoin address.
 
Ability to add existing loyalty cards to Puut Wallet:
Until now loyalty cards were primary served to Puut Wallet users by card issuers., Users are now able to add loyalty cards to their Puut Wallet. This feature will be gradually extended to other types of cards in the future. Cards issuers will continue to push cards to Puut Wallets though
City restrictions removed from shopping groups:
Until now a shopping group was restricted to users living in the same city. Users are now able to join any shopping group anywhere, subject to moderators' approvals However all shopping groups created before February 1, 2018 will remain restrictive.
Shopping Wall is now Marketplace:
Shopping Wall has been renamed to marketplace to include merchant offers based on users preferences.
 
Major bug fixes:
This release contains major bug fixes that dramatically improve the experience.
For more information please contact:
 
Mark Arthur, Founder & CEO at ma(at)puutwallet.com Tel. +45 7734 0067.
About Puut A/S:
Puut A/S is a Danish FinTech company that offers mobile wallet services, social finance enablement and content sharing as a service to end-users, service providers and merchants alike. Puut A/S is seeking to bring the experience of a traditional cloud network to mobile devices, a global mobile experience to mobile phone users and an operator and bank agnostic approach to mobile wallet services.