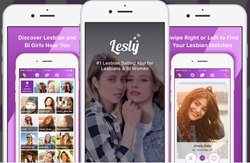 NEW YORK (PRWEB) January 19, 2018
After the United States revolutionized the lesbian dating scene by allowing lesbian couples to get married, the Australian government conducted a survey in 2017, asking every Australian citizen whether they think it's okay for gay and lesbian couples to get married. The result is obvious: most Australians support gay and lesbian couples who want to get married! On 10th January, 2018, Kylie P. and Michelle K. tied the knot in Sydney, Australia.
Since Kylie and Michelle met each other on Lesly (the world's leading lesbian dating app), co-founder of Lesly Vivian A. sent this lesbian couple a fascinating wedding gift – two Swarovski crystalline red wine glasses.
"Last month, we received a letter from Kylie and Michelle, saying that they have decided to get married in Australia in January 2018," says Vivian, "That's really good news, so on behalf of the entire Lesly team, I'd like to congratulate Kylie and Michelle because in our database, they are the first lesbian couple who got married in Australia! That's why I sent them a wedding present."
Apparently, when Kylie and Michelle received the beautiful wedding gift, they were deeply touched. "We know Lesly was very happy to receive our letter, but we didn't really expect them to send us such a perfect gift for our wedding. Lesly certainly has a lovely team," says Kylie, "I'm very grateful for Lesly because this app introduced the love of my life to me. Now Michelle and I are happily married!"
Kylie and Michelle recommend Lesly to all lesbian singles looking for love. "This is seriously the best lesbian dating app on the market," says Michelle, "I have tried almost every lesbian dating website and app out there, but only Lesly works for me!"
Indeed, everyone who supports pink dating celebrates the fact that Australia is now a free country with equal rights. "Every year, the Australian government received thousands of letters that ask the government to change the law so that gay and lesbian couples can get married in this country," says Kylie, "We are very lucky because we live in a time when lesbian couples can get married in Australia."
Previously, Kylie and Michelle considered moving to the United States simply because they couldn't see when the Australian government would change the law. At last, lesbian couples are able to tie the knot without leaving this country.
Lesly is a lesbian dating app which introduces lesbian singles to each other. Only lesbian and bisexual women who are over 18 can join this app.
Website: http://www.leslyclub.com/
iOS: https://itunes.apple.com/us/app/lesly-lesbian-dating-app/id1152403579?mt=8
Android: https://play.google.com/store/apps/details?id=com.leslyclubdating